Welcome to the After School Link Up!
We'll be traveling to Florida again later this month to accompany my husband on a business trip. In order to have the kids approved for missing school, I need to submit how this trip will be educational for them.
I've booked us for a dolphin excursion tour, so I thought we would learn more about dolphins before going. The boat is captained by marine biologist that are participating in a bottlenose dolphin study that tracks the movements and behaviors of these animals in Florida. I've probably given the school more than they really want, but hey, might as well really learn if we're going through the motions. In the end, I'm hoping they can work together to complete this animal report.
Dolphin Lesson Plans (this would make a fun summer theme week)
Books:
Dolphins and Sharks
by Mary Pope Osborne
Nat Geo Kids Dolphins by Melissa Stewart
Dolphin Talk by Wendy Pfeffer
Face to Face with Dolphins by Flip and Linda Nicklin
1-2-3 Draw Ocean Life by Freddie Levin


Dolphins at Daybreak by Mary Pope Osborne (ages 6-9)
The Island of the Blue Dolphins by Scott O'dell (ages 9-12) (this book is not about dolphins, but is a good book for Little J's age-9yo)
On Line Resources:
For Fun
What have you been up to this week After School?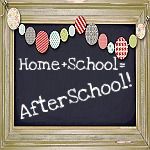 After School Link Up is Cohosted by
We would love to have you link up your School-Age Post (Ages 5 and up) about your learning week after school including Crafts, Activities, Playtime and Adventures that you are doing to enrich your children's lives after their day at school, home school or on the weekend!
When linking up, please take a moment to comment on at least one post linked up before yours and grab our after school button to include a link on your post or site! By linking up you're giving permission for us to share on our After School Pinterest Board or Feature on our After School Party in the upcoming weeks!
Linking to:
The Kids Weekly Coop
,
Sharing Saturday