Welcome to the After School Link Up!
I hope you had a wonderful weekend! We had a beautiful Easter weekend with our family. We kept things basic with the eggs this year and went old fashioned food coloring, plain and simple. My parents sent us a new set of resurrection eggs, which was good since we were missing some pieces. I love that my kids are starting to grasp what Easter really means. After church, we had a delicious lunch at my in laws and the older cousins played Easter bunny and hid eggs for my kids.
What have you be up to After School this Week?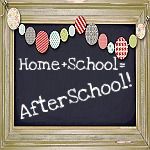 After School Link Up is Cohosted by
We would love to have you link up your School-Age Post (Ages 5 and up) about your learning week after school including Crafts, Activities, Playtime and Adventures that you are doing to enrich your children's lives after their day at school, home school or on the weekend!
When linking up, please take a moment to comment on at least one post linked up before yours and grab our after school button to include a link on your post or site! By linking up you're giving permission for us to share on our
After School Pinterest Board
or Feature on our After School Party in the upcoming weeks!