Welcome to the After School Link Up!
We've escaped our little cold corner of the south and are visiting Nana and Papa in sunny Florida. We're looking forward to a special week with them. Our family has been super busy for the past few weeks. I didn't think it was possible that life with kids would get busier as they got older, but boy has it. Among other things, I helped chair a very successful STEM (science, technology, engineering, and mathematics) night at the kids school that I'll share about soon, but for now, please share what you've been up to after school….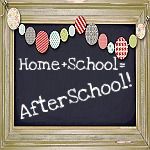 After School Link Up is Cohosted by
We would love to have you link up your School-Age Post (Ages 5 and up) about your learning week after school including Crafts, Activities, Playtime and Adventures that you are doing to enrich your children's lives after their day at school, home school or on the weekend!
When linking up, please take a moment to comment on at least one post linked up before yours and grab our after school button to include a link on your post or site! By linking up you're giving permission for us to share on our
After School Pinterest Board
or Feature on our After School Party in the upcoming weeks!