Welcome to the After School Link Up!
We've been fortunate to sample a bit of spring weather this past week. It's given me a bad case of spring fever though. My cure was to start planning our garden with the kids. Now that my kids are old enough, it's a fun part to share with them. I can't wait to plant this year's sensory garden, we have some fun ideas!
Outside of determining how much space you have to garden, your climate, soil type etc, here are some ideas to start your garden planning in action!
1. Order seed catalogs or peruse their websites
some of our favorites:
Cooks Garden
Seeds of Change
(they have a nice website with planning ideas and videos…look under the "Learning Center" tab)
Pinetree Seeds
Burpee
Park Seed
2. Check out Library Books
The Book of Gardening Projects for Kids by Whitney Cohen
Touch a Butterfly: Wildlife Gardening with Kids by April Pulley Sayre
Wildlife Gardening by Martyn Cox
How to Grow a School Garden by Arden Bucklin-Sporer
Kids Container Gardening by Cindy Krezel
Ready Set Grow, DK series
3. Talk about what kind of garden you might enjoy most…
container garden
sensory garden and here
salsa garden

storybook garden

(Jack and the Beanstalk, Growing a Rainbow, Sunflower House by Eve Bunting, Planting a Rainbow by Lois Ehlert,
4. Visit Local Gardens and Garden Shops
A trip to a local garden or shop might give you an opportunity to see new plants and ways to set up a garden. Talking with a local gardener is also a wonderful resource.
5. Sprout seeds on a tray
Sometimes old seeds won't germinate and sometimes they will. Sprouting a few indoors might give you an idea as to whether your old seeds have a chance. Plus, it's interesting for the kids to watch and easy enough to do.
Line a tray or shallow dish with some paper towels. Pour enough water over the towels to soak them, but not have standing water. Sprinkle seeds over the wet paper towels. If you don't recognize the seed, you might want to be a little more organized than we were…which was completely not organized at all. Add water as needed to keep the paper towels moist.
Have the kids examine the seeds each day. Seeds germinate at different rates, so have the kids pay attention to when each seed sprouts (hopefully, they will). Some of our seeds were old seeds and some were collected from last year's garden, so I expect at least some will sprout.
You can see our past sensory gardens and other garden activities here.
After School Features
I loved this simple logic challenge to introduce kids to sudoku puzzles by School Time Snippets. Kristina used various colored post it notes to make this puzzle for her son. It can be made easier or more complex by adding rows to the puzzle.
What will you be up to After School this Week?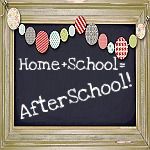 After School Link Up is Cohosted by
We would love to have you link up your School-Age Post (Ages 5 and up) about your learning week after school including Crafts, Activities, Playtime and Adventures that you are doing to enrich your children's lives after their day at school, home school or on the weekend!
When linking up, please take a moment to comment on at least one post linked up before yours and grab our after school button to include a link on your post or site! By linking up you're giving permission for us to share on our After School Pinterest Board or Feature on our After School Party in the upcoming weeks!
Linking to:
Kids Weekly Coop
,
For the Kids Friday
,
Link and Learn