I thought I would follow up with how our Vietnamese soup making from the cookbook The Family Dinner by Laurie David went. It was a hit!
My kids amaze me with what they will and won't eat. I have one that won't touch pb&j or mac'n'cheese, but loves sushi and a number of other unusual for kids to like foods. They all LOVED this soup and it was a FUN dinner together.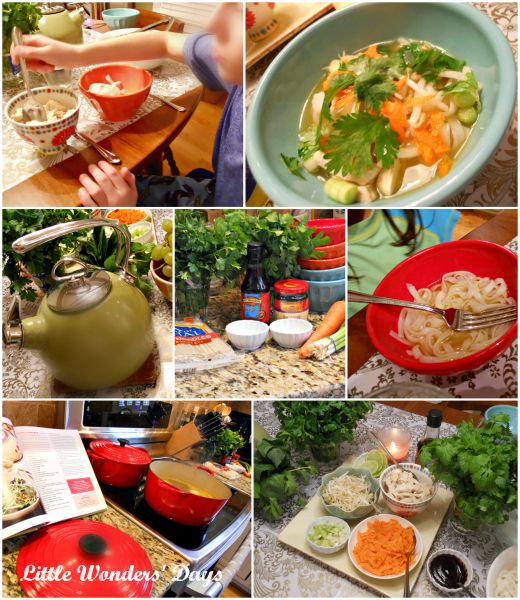 It's an easy meal to make, but it does take some prep time. The kids helped wash all the herbs, grate the carrot, and fill the bowls with ingredients. I made the broth and the chicken earlier in the day. That was super simple.
The fun really started at the table though. You pick and choose what you want in your bowl and then top it with the broth that you bring to the table in a tea kettle. The kids loved this part and tried most of the toppings, herbs, bean sprouts, and even green onions in their soup. I was shocked! I really thought they would stick to noodles and chicken.

Linking to:
Kids Weekly Coop
,
For the Kids Friday
,
TGIF!
,
The Sunday Showcase