Little J had his first real sports injury this past weekend while playing goalie on his indoor soccer team. He plays goalie a bit aggressive and grabs up balls while opposing players are still full on rushing toward him (I guess that's how you're supposed to do it, but this Mama is too wimpy). As he took possession of the ball this time though, another player followed through on a kick and got the ball and unfortunately, Little J's hand. It dislocated his left index finger at the metacarpophalangeal joint.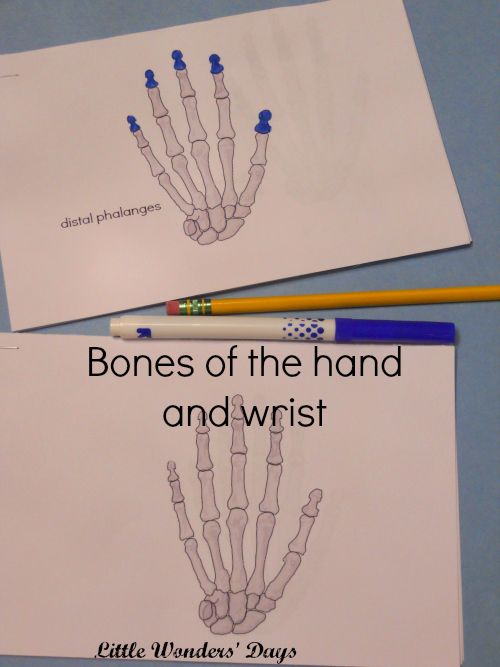 He was so brave through it all. We spent around eight hours in a children's emergency room having x-rays and orthopaedics surgeons examining him. In the end, they were able to give him some lovely medications to make him sleepy and they were able to put the joint back in place. It could have been much worse, so I'm thankful he's on the mend.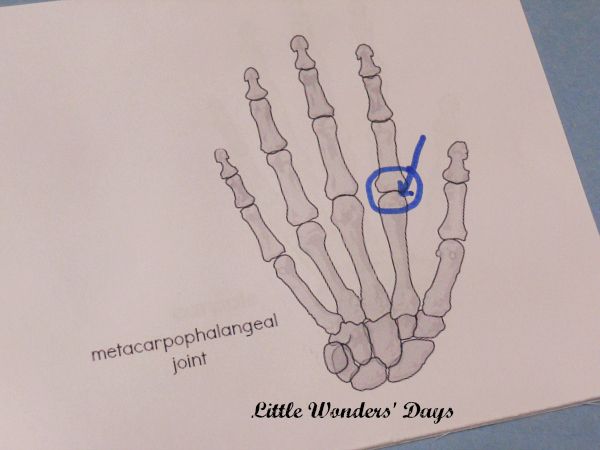 The orthopaedic surgeons were so wonderful with him. Once Little J was all repaired and awake making sense again, he asked them to see his x-rays. I couldn't believe it, but they took the time to show him all the before and after pictures and explained how the bones and joints fit together and work. They explained where tendons, ligaments, and muscles would be and why they were concerned about this type of
dislocation.
Since he seemed interested, I rounded up some books at the library today and made a Montessori inspired mini book of the bones of the hand and wrist.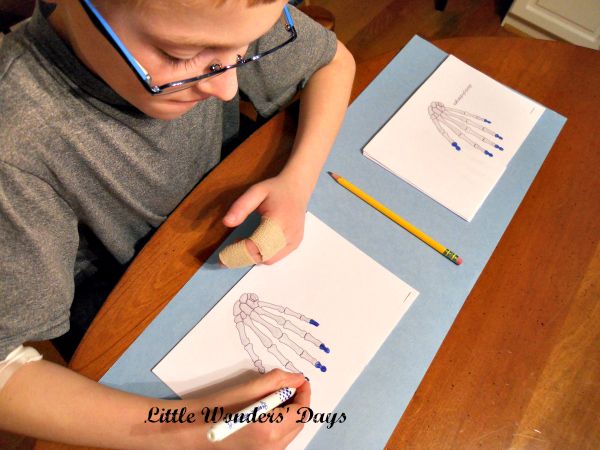 He read some of the books and finished the bones of the hand tonight. I'll have him finish the bones of the wrist tomorrow and look through some of the websites below.
Online Resources
I picked up The Dangerous Book for Boys by Gonn Iggulden too...

Books
The Bionic Hand by Adam Woog
Bones Our Skeletal System by Seymour Simon
Human Body, Simon and Schuster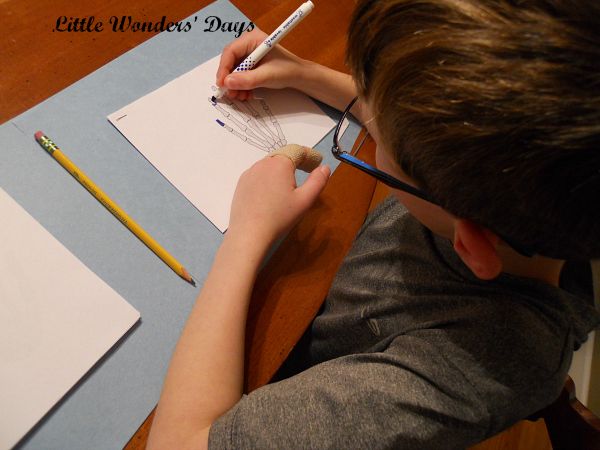 You can make this same book by going to WP Clipart and using their hand bones clipart. I changed it to grayscale, and edited it in Picmonkey. I made a control copy (one that had the names of one bone) and a blank copy for him. He colored the appropriate bone and wrote the name in while following the control book.
Funny follow up story...Little J figured out how to play his video games the day after his injury. However, on the way to school this morning, he said, "I might not be able to write today. How am I going to hold my paper?" Ha! Nice try kid.

Linking to:
Montessori Monday
,
Kids Weekly Coop
,
For the Kids Friday
, TGIF!
,
The Sunday Showcase