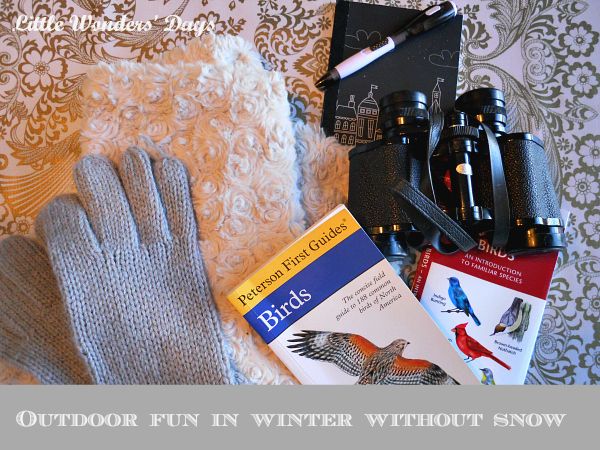 We get snow once or twice each winter, if we're lucky. However, it's pretty cold, so it's easy to hole up and not want to come out until spring, but that's no fun. We try to venture out every afternoon for a bit regardless. Sometimes we (really me) need a little more motivation than heading to the playground or playing a favorite childhood game. Here is a list of ideas we might try this January. Join us!
10 Easy After School Learning Activities with Outdoor Fun
Make a cranberry and popcorn garland to string on a tree for the birds and squirrels.

Take a walk through an arboretum to see how the garden looks in winter.

Take a pair of binoculars out to look for birds. Take a field guide to help you identify your sightings. Get ready for the Great Backyard Bird Count happening in February.

Gather up thick blankets and take thermoses of hot soups and fresh baked cookies to the park for a picnic. Make sure to take an excellent chapter book to read aloud.

Make or print a winter scavenger hunt (Pinterest has just a few, take your pick) and head out for the afternoon. Have hot tea when you return.

Plant spring bulbs if it hasn't gotten too cold in your area.

Hang some fairy lights, add some LED candles and take the music outdoors for a dance party.

Explore shadows...measure, trace, and/or photograph shadows you find.

Go fly a kite. It seems like it's windier here in winter than any other time of the year. Besides, the colors look pretty against the gray sky.

Bundle up and head to a zoo. It's fun to see the cold weather animals more active than when we visit in the summer.