I always look forward to the kids writing their letters to Santa. They say some of the cutest things while working on them. I set up for our annual letter writing party for our 2nd day of advent. It's not a party in the sense I invite other kids, but we have Christmas music playing, good snacks, and fun!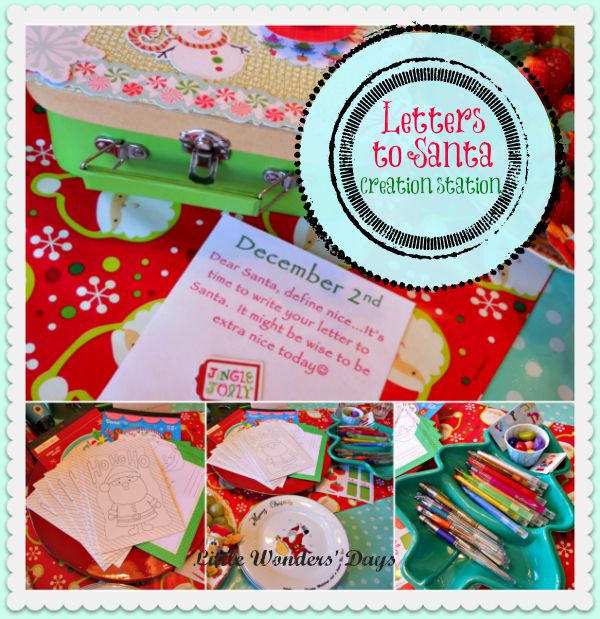 For our creation station I simply gathered our art supplies and put them in pretty Christmas containers. We had gel pens, markers, colored pencils, crayons, twistables, stickers, pretty papers, and tape/glue. I found coloring cards with Santa at Target.
Our Christmas snack platter had strawberries, green grapes, pirouette cookies, chocolates. I try to keep our snacks on the healthier side, but you just have to have cookies and milk when talking about Santa, right?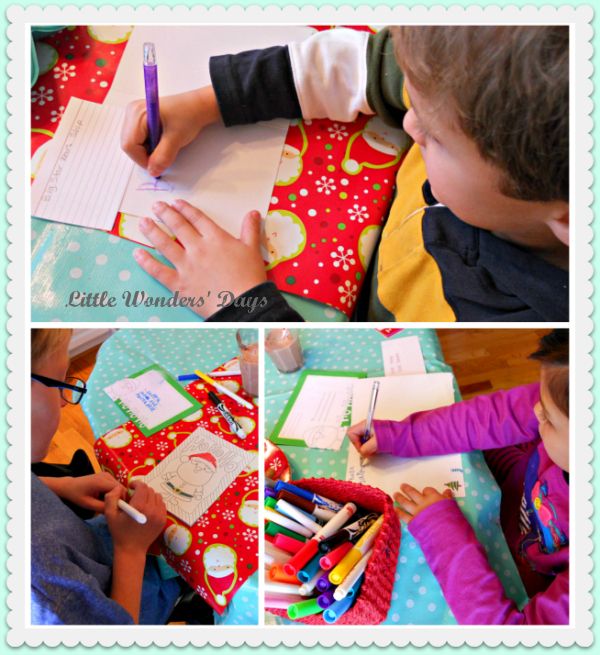 I'm waiting for Little J to tell me he doesn't believe in Santa. He doesn't seem to be quite there yet. Juiciness just wants a big Star Wars ship, Sassyfras wants to see Nana, and Little J wants contact lenses and a dog (the dog...maybe that is why he still believes in Santa).
Now how to mail them to Santa...
The kids write their letters to Santa and address them anyway they want...Santa at the North Pole is great.

They put them in the mailbox (I suggest after your mailman has been for the day. That way you can sneak out after the kids are in bed and retrieve their letters. Hide them away as keepsakes.)

Without the kids seeing, you write letters to them on behalf of Santa. You can even find free on line letters that you can personalize. Place this letter in a stamped self addressed envelope.

Take your stamped self addressed envelope and put it in another envelope addressed to:
NORTH POLE HOLIDAY CANCELLATION
Your letter must be received by the USPS by December 10, 2013 for you to
receive your letter back with the North Pole cancellation stamp.
**If your letter doesn't make the deadline you can use this free printable to mark your Santa letter to the kids**