Welcome to the After School Link Party!
My kids are settling into school well and have started most of their formal after school activities. So far, their teachers seem wonderful again. We have our first open house this coming week, hopefully, I will know more about what they will be learning this year. I like to support their learning at home with fun activities if possible (it's partly how we after school).
As for me, well
, I think I went from pitifully lost without my kids to semi pathetically lost. I found myself wandering Target a couple of mornings, glad to run into not just one or two, but several of other moms I know. I think we were all thankful to see each other. I did start running each morning after drop off, that feels pretty good. I'm planning to tackle my front garden this week as well. My sweet husband is taking a vacation day on Friday to spend a "date day" with me. I might just enjoy this time after all!
After School Features
Ashley at Life with Moore Babies, shared a craft kids can do that imitates Chihuly sculptures, "Bottle Glass Sculpture". It's easier than you think and they look amazing. My kids were able to see some of his work at Fairchild Tropical Gardens and still remember the beauty of the sculptures. I think they like the swirl of colors.
I loved Kristina's idea at Toddler Approved for learning sight words. Over the summer, I picked up DVD of Super Friends (you know, the "Justice League" guys from way back when) to watch on long car rides. Now my kids love the old super heroes. I think my kindergartners would enjoy practicing their site words with this fun activity.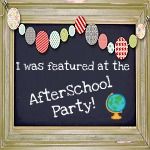 We would love to have you link up your School-Age Post (Ages 5 and up) about your learning week after school including crafts, activities, playtime and adventures that you are doing to enrich your children's lives after their day at school, homeschool or on the weekend!

When linking up, please take a moment to comment on at least one post linked up before yours.

Grab our after school button or include a link on your post or site.

By linking up you're giving permission for us to share on our After School Pinterest Board, social media sites or feature a link and/or image on our After School Party next week! Don't forget to follow along and join our After School Enrichment Community.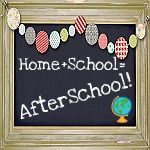 <div align="center"><a href="http://www.littlewondersdays.blogspot.com" title="Little Wonders' Days"><img src="http://i820.photobucket.com/albums/zz128/luraymeister/Afterschool/AfterschoolButtonDraft4.jpg" alt="Little Wonders' Days" style="border:none;" /></a></div>
2013 After School Party Hosts