Welcome to the After School Link Party!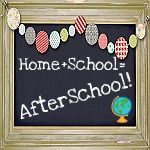 <div align="center"><a href="http://www.littlewondersdays.blogspot.com" title="Little Wonders' Days"><img src="http://i820.photobucket.com/albums/zz128/luraymeister/Afterschool/AfterschoolButtonDraft4.jpg" alt="Little Wonders' Days" style="border:none;" /></a></div>
I think I'm finally coming out of "my kids have gone to school, now what?" funk and we are settling into our new routine for the year pretty well. Once the kids are home, we have snack together and talk about what we all did and then it's homework time. Sassyfras and Juiciness don't have formal homework, but the teachers encourage them to have 20 minutes of reading each day, so that is what they do for homework. They have also been working on writing, especially their site words. Little J has quite a bit more, but somehow his teacher has cast a spell over him and he likes doing it. Once homework is completed, we're on to our after school fun.
We had open house at their school this week and I was able to learn more about what will be covered this year and how I can help them be successful.
Here are some ways that I plan for our after schooling
what will reinforce and/or extend their school lessons in a fun, easy going way?

what areas do my kids need extra help or practice to learn?

what subjects aren't covered well or at all in school that I would like them to experience?

what are their interests and what would they like to explore?
I want our after school experiences to be positive, family building, confidence building, and fun. I don't want it to occupy their free time/playtime, be stressful, or just plain not fun.
Little J's first science unit will be electricity and magnetism and the kindergartners are exploring animals. We visited the library last week to check out books on these subjects and will start some activities this week, so stay tuned.
What are you doing this week after school?
We would love to have you link up your

School-Age Post (Ages 5 and up)

about your learning week after school including crafts, activities, playtime and adventures that you are doing to enrich your children's lives after their day at school,

homeschool

or on the weekend!

When linking up, please take a moment to comment on at least one post linked up before yours.

Grab our after school button or include a link on your post or site.

By linking up you're giving permission for us to share on our After School Pinterest Board, social media sites or feature a link and/or image on our After School Party next week! Don't forget to follow along and join our After School Enrichment Community.
2013 After School Party Hosts