Welcome to the After School Link Party!
My kids successfully got off to school this week. Everyone seems very happy...mom's having some trouble adjusting, but I'll get there. I spent most of my week volunteering at the school, lol. I'm pitiful, I know. It's been 9 years since I haven't had a kiddo with me the better part of the day. I made action item list for myself this week, so hopefully, I can move on with my days.
Cheryl's post, Creative School Lunch Ideas-Alphabet Theme, at Mom's and Munchkins is just too cute. I just sent my two youngest off to kindergarten this week and I think they would enjoy having an alphabet themed snack and note (free printable with this post).
Along the alphabet theme is Jacquie's post, Learn Your ABC's on an Architecture Scavenger Hunt, over at KC Edventures. My oldest has long known his ABC's, but if you check out her post, you can see why I think he would stay very busy with this scavenger hunt. Fun! I'm putting this on my list for when our fall weather settles in and it's cool enough to be out for long times.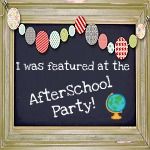 You'll notice that we have some familiar faces joining us in hosting the After School Party as well as some wonderful newcomers. I'm so excited our hosting group has grown!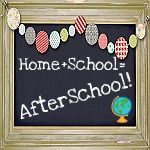 <div align="center"><a href="http://www.littlewondersdays.blogspot.com" title="Little Wonders' Days"><img src="http://i820.photobucket.com/albums/zz128/luraymeister/Afterschool/AfterschoolButtonDraft4.jpg" alt="Little Wonders' Days" style="border:none;" /></a></div>
2013 After School Party Hosts
We would love to have you link up your

School-Age Post (Ages 5 and up)

about your learning week

after school

including

crafts, activities, playtime and adventures

that you are doing to enrich your children's lives after their day at school, homeschool or on the weekend!

When linking up, please take a moment to comment on at least one post linked up before yours.

Grab our after school button or include a link on your post or site.

By linking up you're giving permission for us to share on our

After School Pinterest Board

, social media sites or feature a link and/or image on our After School Party next week! Don't forget to follow along and join our

After School Enrichment Communit

y.