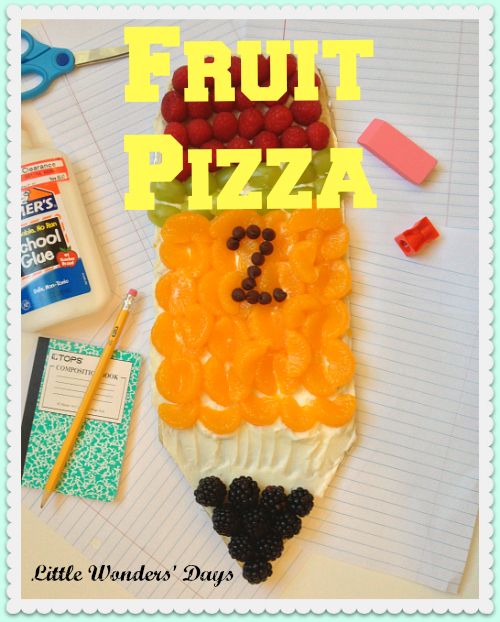 I have a tradition of making my kids a special after school snack for the first day of school. It's fun to get them home and hear about their day over a special snack. My kids love fruit...and cookies too. So, I decided to make a fruit pizza this year...in the shape of a pencil!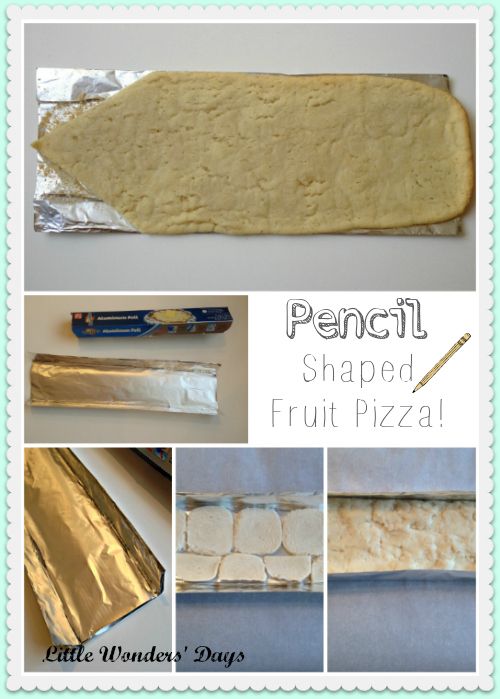 How to Make a Pencil Shaped Fruit Pizza
Start by forming a mold out of aluminum foil. I used a large sheet and folded the sides up several times to make a rectangle in the middle. Then, slice the cookie dough according to the package directions and lay it on the foil. Once it's filled,
"

smoosh

" the
dough together a little and bake it according to the package directions. Allow it to cool completely before adding the topping. To get the tip of the pencil, I simple cut triangle shaped portions out of one end.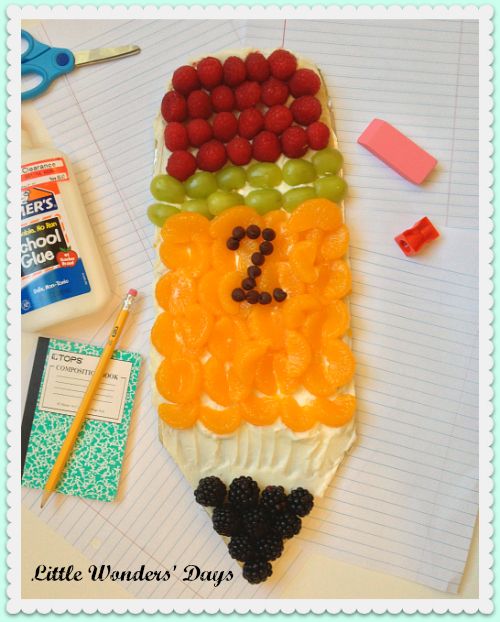 For the Topping
Beat together a softened 8oz bar of cream cheese and 1 cup of confectioners sugar. Spread over the cookie. Wash and pat dry your fruit. I used blackberries for the pencil tip, Mandarin oranges for the center, some sliced grapes for the bands, and raspberries for the eraser. It looked a little plain, so I added the "2" with chocolate chips.
It's been a long time since I've made a fruit pizza. This fruit pizza is one we made for St. Patrick's Day a few years ago (rainbow themed).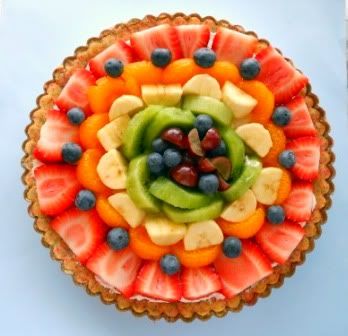 It's been such a quiet morning without the kids home, I'm not sure I like it too much. I'm looking forward to our year of after school fun for sure.
So, what have you been up to this week After School?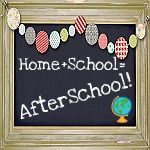 <div align="center"><a href="http://www.littlewondersdays.blogspot.com" title="Little Wonders' Days"><img src="http://i820.photobucket.com/albums/zz128/luraymeister/Afterschool/AfterschoolButtonDraft4.jpg" alt="Little Wonders' Days" style="border:none;" /></a></div>
We would love to have you link up your

School-Age Post (Ages 5 and up)

about your learning week

after school

including

crafts, activities, playtime and adventures

that you are doing to enrich your children's lives after their day at school, homeschool or on the weekend!

When linking up, please take a moment to comment on at least one post linked up before yours.

Grab our after school button or include a link on your post or site.

By linking up you're giving permission for us to share on our

After School Pinterest Board

, social media sites or feature a link and/or image on our After School Party next week! Don't forget to follow along and join our

After School Enrichment Communit

y.