Welcome to the After School Link Party!
We just returned from a trip to the beach. Grandma and Grandpa , my sister and her husband and my other sister's two oldest children joined us. It was so much fun to have them all with us! The cousins love spending time together and I am missing them so much right now. My nephew asked could he stay at our house and I told him yes, absolutely... the only problem is I'm sure my sister wouldn't go along with our plan, darn. And talk about the grandparent, aunt and uncle spoiling, I think my kids were in heaven.
Anyway, one of the nights we took the big boys out to look for and observe ghost crabs and whatever else might be out after dark. They said this was their favorite part of the trip!
Supplies
a shell net

a flashlight (be mindful of nesting turtles in the area and stay away from them)

glow sticks (have the kids wear them to make

them

easy to spot)

a bucket (add some sand and then you can place the crabs in it for a short observation)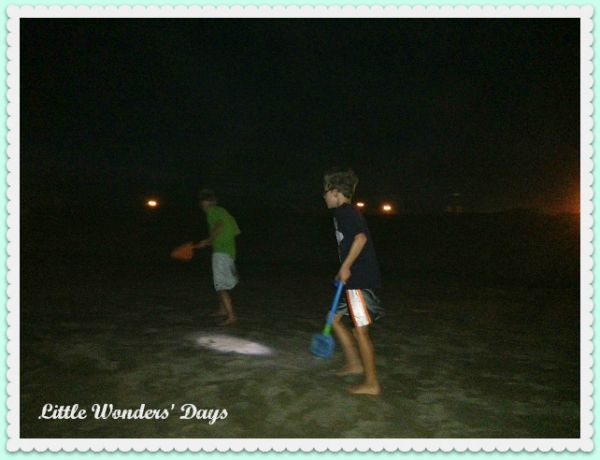 How to find ghost crabs
We went out right at dark, which was just before 9:00pm. We found most of the ghost crabs in the softer sand, right before the high tide line of wet sand. Ghost crabs blend right into the sand, so look for their movement. Once you spot one, it's easiest for one person to follow them with the flashlight and the other to use the shell net to catch them. Be gentle with the net so you don't hurt them. Place them in the bucket to observe them, release them.
Observe
Their shell, legs, claws, eyes, they way the move and burrow into the sand. Try to find their tunnel in the sand. Talk about why they come out at night, their coloring, characteristics of crustaceans etc.
Resources
What have you done this week?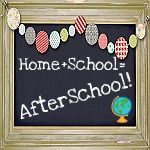 <div align="center"><a href="http://www.littlewondersdays.blogspot.com" title="Little Wonders' Days"><img src="http://i820.photobucket.com/albums/zz128/luraymeister/Afterschool/AfterschoolButtonDraft4.jpg" alt="Little Wonders' Days" style="border:none;" /></a></div>
We would love to have you link up your

School-Age Post (Ages 5 and up)

about your learning week

after school

including

crafts, activities, playtime and adventures

that you are doing to enrich your children's lives after their day at school, homeschool or on the weekend!

When linking up, please take a moment to comment on at least one post linked up before yours.

Grab our after school button or include a link on your post or site.

By linking up you're giving permission for us to share on our

After School Pinterest Board

, social media sites or feature a link and/or image on our After School Party next week! Don't forget to follow along and join our

After School Enrichment Communit

y.