Welcome to the After School Link Party!
Ummm, hello, my name is Kelly. I feel the need to introduce myself since I've been MIA lately. We've been away a lot this summer and have been very busy and active and having a blast, but still learning as we go!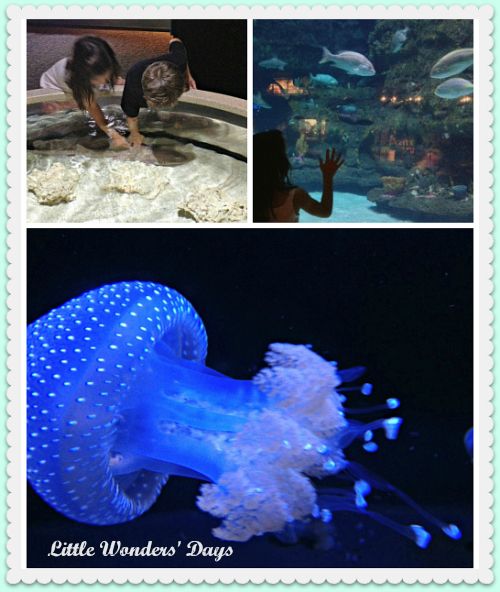 Sassyfras and Juiciness touching a shark, kids viewing the large tank, jellyfish
We've also been steadily making our way through our summer bucket list. One of the ideas was to visit an aquarium. I'm glad my kids enjoy places like this, they always learn a bit more each time we visit. Is it me or do Sassyfras and Juiciness look like they'd take a swim with the sharks if they thought it was okay?
Another one of our summer bucket list ideas was to "Go on a reptile tour and visit a serpentarium". While I wouldn't want to get locked in this place overnight, I will have to admit it was a pretty neat place to visit. Each exhibit had great labels and descriptions of the animal. Little J's favorite part was the "skull" labels that showed how deadly the animal was, lovely. Just know you don't want to come face to face with any reptile housed here.
Our parsley has been invaded by swallowtail caterpillars again, yeah! We brought a couple in to keep in our butterfly house until they emerge as a beautiful black swallowtail butterflies. You can see last year's fun with these guys at this post, "Butterfly hatch day party".
We've become virtual beach bums this summer too. Any chance we've had to hit the beach we have. The kids love playing in the surf, digging holes, catching whatever might be too slow to get out of their way (mostly mole crabs).
Daddy also bought a nice fishing boat for us and we've been out having picnics and teaching the kids to fish.
I'd like to say we'll be around more this week, but Grandma and Grandpa are coming to visit with my sister's oldest two kids, that are the same ages as my kids. Man I can't wait to get my hands on them. I get almost a whole week with them!
What have you been up to this summer?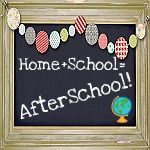 <div align="center"><a href="http://www.littlewondersdays.blogspot.com" title="Little Wonders' Days"><img src="http://i820.photobucket.com/albums/zz128/luraymeister/Afterschool/AfterschoolButtonDraft4.jpg" alt="Little Wonders' Days" style="border:none;" /></a></div>
We would love to have you link up your

School-Age Post (Ages 5 and up)

about your learning week

after school

including

crafts, activities, playtime and adventures

that you are doing to enrich your children's lives after their day at school, homeschool or on the weekend!

When linking up, please take a moment to comment on at least one post linked up before yours.

Grab our after school button or include a link on your post or site.

By linking up you're giving permission for us to share on our

After School Pinterest Board

, social media sites or feature a link and/or image on our After School Party next week! Don't forget to follow along and join our

After School Enrichment Communit

y.