Welcome to the After School Link Party!
We're home from our road trip with Nana and I'll share more about that in another post. We had a wonderful time, but now we're turning around to head to the beach with Daddy!
The day after we left Pennsylvania, where we observed and learned about baby toads, we traveled to Poughkeepsie/Hyde Park/ Staatsburg, New York. After we checked into our hotel we went to Vanderbilt Mansion and played in the garden. This time, the kids found frogs in the water garden! We saw tadpoles, tadpoles with legs, and froglets. It made for a nice follow up to our discussion of how frogs and toads are similar or different. Enchanted Learning has a great venn diagram we used.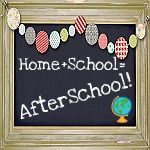 <div align="center"><a href="http://www.littlewondersdays.blogspot.com" title="Little Wonders' Days"><img src="http://i820.photobucket.com/albums/zz128/luraymeister/Afterschool/AfterschoolButtonDraft4.jpg" alt="Little Wonders' Days" style="border:none;" /></a></div>
We would love to have you link up your

School-Age Post (Ages 5 and up)

about your learning week

after school

including

crafts, activities, playtime and adventures

that you are doing to enrich your children's lives after their day at school, homeschool or on the weekend!

When linking up, please take a moment to comment on at least one post linked up before yours.

Grab our after school button or include a link on your post or site.

By linking up you're giving permission for us to share on our

After School Pinterest Board

, social media sites or feature a link and/or image on our After School Party next week! Don't forget to follow along and join our

After School Enrichment Communit

y.