Yahoo, our first
summer bucket list
pull of the season! Sassyfras pulled "Set up a carnivorous plant terrarium" an activity from our less than 4 hour ideas.
Our plans
Read the book "Carnivorous Plants" by Elaine

Pascoe

Visit a local botanical garden or home garden store to see the plants growing

Set up a carnivorous plant terrarium using a kit
I found a carnivorous plant terrarium kit on sale at Michael's earlier this year and stashed it away for this summer. It comes with everything you need...except I should have read the directions a bit earlier. One of the seed packs needs to be prepared and put in the refrigerator for 6 weeks! That's okay though, we still had another seed pack to plant.
I went to the library the day before school let out and loaded us up with books. When I saw the book, "Carnivorous Plants" by Elaine Pascoe, I knew I had to pick it up. I didn't think we would use it quite this soon, so I'm glad I had it. It discusses carnivorous plants in general and their unique place in the plant world as well as how to grow and care for them. It needed to be paraphrased a bit for Juiciness and Sassyfras (5 years old), but in general is a great book.
After reading this book, we headed out to visit a local botanical garden that has a bog garden and is home to a variety of carnivorous plants. We saw several species of carnivorous plants up close and were able to spend some time observing them.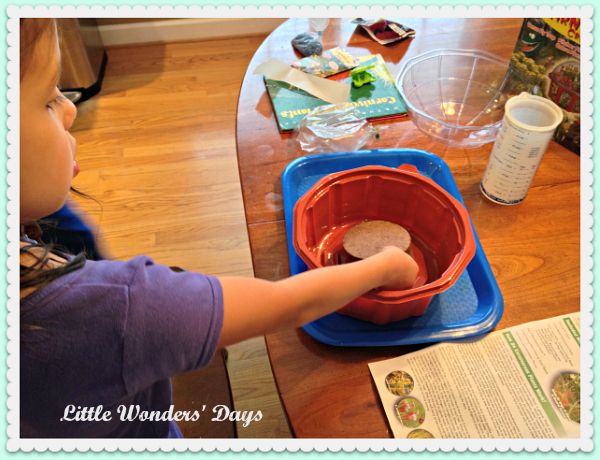 This terrarium is comes with good directions and was easy to put together. It will take some several weeks before we might see some plants sprouting.