Welcome to the After School Link Party!


We're on our annual epic "Road trip with Nana" right now! We've done this for many summers now and look forward to it every year.
Our first stop was Bird In Hand in the Pennsylvania Dutch country. It's such beautiful farmland.
The inn that we stayed at has a small garden that we walked through. As we were walking, we realized the ground seemed to be moving. There were hundreds of baby toads hopping through the grass! The kids were crazy excited about these little guys and the questions started to roll. When we got back to the room, I pulled up a few websites so we could learn more about them. We're going out to the garden in this morning to observe them again. Learning can happen anywhere in the most unexpected places!
The baby toads are so small and look very similar to frogs. I had a hard time deciding whether they were toads or frogs until we found an adult toad.
Websites for learning more about toads:
Enchanted Learning- Venn diagram comparing frogs and toads (we're going to print this and complete it when I get to a wireless printer later this week)
I wished we had a "Frog and Toad" story to read, and found this site for a few stories.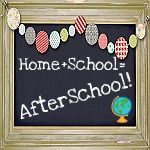 <div align="center"><a href="http://www.littlewondersdays.blogspot.com" title="Little Wonders' Days"><img src="http://i820.photobucket.com/albums/zz128/luraymeister/Afterschool/AfterschoolButtonDraft4.jpg" alt="Little Wonders' Days" style="border:none;" /></a></div>
We would love to have you link up your

School-Age Post (Ages 5 and up)

about your learning week

after school

including

crafts, activities, playtime and adventures

that you are doing to enrich your children's lives after their day at school, homeschool or on the weekend!

When linking up, please take a moment to comment on at least one post linked up before yours.

Grab our after school button to include a link on your post or site!

By linking up you're giving permission for us to share on our

After School Pinterest Board

, social media sites or feature a link and/or image on our After School Party next week! Don't forget to follow along and join our

After School Enrichment Communit

y.