Welcome to the After School Link Party!


So school is finally out for all my kiddos and we are living it large already! We've been swimming, biking, nature walking, playing, and eating our way into summer. We've had a mild spring, so our strawberry season ran late this year and we were able to get in a last minute run to the berry farm last week. We used the last of our berries to make strawberry ice cream this weekend.
Upper left- strawberry picking, upper right-baby bunny we spotted while taking a walk, lower left-swallowtail butterfly, lower right- homemade strawberry ice cream!
I don't know about you, but it takes us a bit to get into a rhythm with our summer days. I went for a run for the first time in ages before the kids were up this morning. By the time I finished my shower they were awake, so we had breakfast together. I sent them off for a little free play while I sat down to say "hi" to all of you. I'm planning on doing a little "school work" with the kids after I finish here. After that, we're off to see what our summer bucket list has to offer. Later in the afternoon we have tennis lessons and swim team practice. We'll finish the evening off with dinner on the deck, a quick bike ride, baths, some reading time, and off to bed!
Features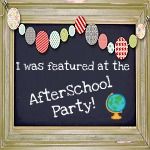 Angela from Sunny Sweet Life shared "8 Summer Themes" that you can use to spark some fun and learning at your home. I love a good theme.
There are some fun "Shell Crafts" at Hannah's blog, Like Mama!~ Like Daughter. I love these shell impressions in clay. This craft is easy enough to take to the beach with you!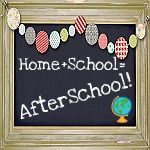 <div align="center"><a href="http://www.littlewondersdays.blogspot.com" title="Little Wonders' Days"><img src="http://i820.photobucket.com/albums/zz128/luraymeister/Afterschool/AfterschoolButtonDraft4.jpg" alt="Little Wonders' Days" style="border:none;" /></a></div>
We would love to have you link up your

School-Age Post (Ages 5 and up)

about your learning week

after school

including

crafts, activities, playtime and adventures

that you are doing to enrich your children's lives after their day at school, homeschool or on the weekend!

When linking up, please take a moment to comment on at least one post linked up before yours.

Grab our after school button to include a link on your post or site!

By linking up you're giving permission for us to share on our

After School Pinterest Board

, social media sites or feature a link and/or image on our After School Party next week! Don't forget to follow along and join our

After School Enrichment Community

.