My childhood summers hold some of my best memories and those days were magical to me. I would go back and relive anyone of them. To this day, I love, love summer. I spent most of my summers with my grandparents in upstate New York along the Hudson River. My days were never rushed and there was plenty of time for boredom, exploring, and play, yet somehow they were also packed with iconic summer activities that just seemed to spontaneously happen. I helped my grandfather garden and he took me fishing, my grandmother spent hours watching me swim in the pool and made the best picnic dinners on the patio ever. My aunt and uncle would appear and off we went to the county fair. I want those type of days for my kids.
For the past few years we have been making a summer bucket list. We make list of things we want to do before summer kicks the bucket, cut them into individual strips and put them in a sand bucket. I color code them for how much time each activity will take (full day, half day, 4 hours or less) and the kids take turns pulling a slip each morning, depending on our schedule, and that's how we plan our day. I try to have all our supplies before summer starts so that we can be spontaneous, unless part of the fun is getting the supplies. This isn't meant to always keep the kids occupied, but to have an intentional summer. We won't start our list until all the kids are out of school (first week in June).
This is our 2013 Summer Bucket List
...for now...they add activities daily
Full Day Summer Bucket List Activities
fishing in the mountains
go on a reptile tour, visit a serpentarium
(thanks Little J)
make homemade yogurt
set up our ant farm and learn more about ants
go to an aquarium
visit ethnic grocery stores or delis, bring home samples and cook
visit a museum
explore a nearby city
visit a potter's studio and watch them work, play with clay at home
go to the beach
Half Day Summer Bucket List Activities
mini golf
tie dye t-shirts and shoelaces
play at a sprinkler park
go horseback riding at a farm
ride our bikes to the park for a picnic
make a birdhouse from our gourds (we planted them this spring)
go rock wall climbing
go for high tea
make superhero capes
make Italian ices
take Daddy out to lunch for sushi
go for a hike
go to a planetarium show
make madeleines
Less than 4 Hour Summer Bucket List Activities
make pet shells (like pet rocks)
breakfast picnic
make bottle cap necklaces
make Dole whips
make ocean dioramas
round up some friends and play kickball
make a snail home
grow chia pets
make pizzas on the grill
read mom and dad's old comic books
make robot collages
make fresh lemonade or limeade
make bubble wands and homemade bubble solution, play
have a paper airplane contest
make a big chocolate cake from scratch
set up a carnivorous plant terrarium
take a butterfly walk and try to identify as many possible
All Summer Long or planned Activities
annual road trip with Nana
one week of summer camp/child
raise black swallow tail caterpillars to butterflies
summer learning goals for each family member
swimming, biking, outdoor playing
go to outdoor movies
catch and release fireflies, participate in the firefly watch
go to a baseball game
visit various museums
Now onto your Summer Bucket Lists
and the Summer Bucket List party!
The rules are pretty simple...


1. Link up only child/family friendly summer bucket lists.
2. Link back to this party with either a text link or use this year's summer bucket list party button.
3. Visit a couple of other links and leave a comment or two.
4. Have a super fun summer with your kiddos!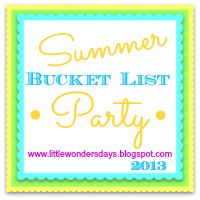 Linking to:
We Made That
,
Kids Weekly Co-Op
,
Anything Goes Linky
,
For The Kids Friday
,
TGIF!
,
Friday Flash Blog
,
Tatertots and Jello
,
Crafty Moms Share-Sharing Saturday
,
The Sunday Showcase
,
Saturday Show and Tell
,
Serenity Saturday
,
Link and Learn
,
The Sunday Parenting Party
,
Monday Funday
,
Monday Kid Corner
,
Happy Family Movement Summer Bucket List Challenge
,
Made by You Monday