Welcome to the After School Link Up!
Last week I shared that we had feather friends enjoying our new hanging basket. I'm happy to report that it is a family of Carolina Wrens. Mommy bird finished laying five eggs and is now sitting on her nest. We're doing our best not to disturb them. We're hoping by next week that we hear tiny chirps coming from the nest.
Our "Summer Bucket List Party" has a lot of wonderful links and is still open. Please don't worry about being late to the party, it will be open for quite some time and you're always welcome. My kids are still adding to our bucket, so I'll update our list from time to time too.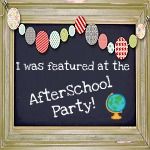 We had so many great links last week that it was difficult to pick just a couple to feature. Thanks everyone!
I've had Little J keep a summer writing journal for a few summers now. Erica at What Do We Do All Day linked up a nice post, "Writing Journals for Kids" about various kinds that kids could do over the summer. I hadn't thought about having my youngest two, who are writing...but not necessarily more than letter writing practice, have journal. I will now though!
I love the round ups that Deb at Living Montessori Now does. She linked up "Montessori Inspired Flower Activities" last week. There are so many wonderful ideas in her post!
Thank you to everyone who linked up last week. I can't wait to see what you link this week!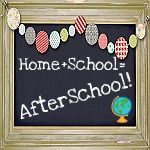 <div align="center"><a href="http://www.littlewondersdays.blogspot.com" title="Little Wonders' Days"><img src="http://i820.photobucket.com/albums/zz128/luraymeister/Afterschool/AfterschoolButtonDraft4.jpg" alt="Little Wonders' Days" style="border:none;" /></a></div>
We would love to have you link up your

School-Age Post (Ages 5 and up)

about your learning week

after school

including

crafts, activities, playtime and adventures

that you are doing to enrich your children's lives after their day at school, homeschool or on the weekend!

When linking up, please take a moment to comment on at least one post linked up before yours.

Grab our after school button to include a link on your post or site!

By linking up you're giving permission for us to share on our

After School Pinterest Board

, social media sites or feature a link and/or image on our After School Party next week! Don't forget to follow along and join our

After School Enrichment Community

.