Last year's Summer Bucket List Party (a list of things to do before summer kicks the bucket) had 68 great links with wonderful resources for kid activities. What a neat resource for summer ideas!
I'm hosting another party this year that will open on May 1st. Please come back and link up your lists...whether you call them a bucket list, fun list, summer list, don't get board list etc...just so they're child/family friendly!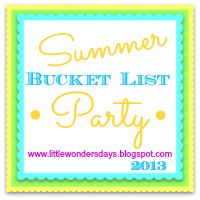 Please post this button or do a text link on your blog to spread the word.
Here is a sneak peek at our 2013 list
Ride our bikes to the park for a picnic
Make a birdhouse from our gourds (we planted them this spring)
Make pizzas on the grill
Read mom and dad's old comic books
Raise eastern black swallowtails
Road trip with Nana
Weekly learning goals

Pin It