Instead of doing a "10 Easy and Inexpensive Ways to Show Your Kids You Love Them" post for February, I thought I would invite you to join me for 14 days of ways to show your kids you love them. A little something to do each day leading up to Valentine's Day. Now this isn't meant to mysteriously stop the day after Valentine's Day, it's just a little something fun and a way to get started doing little things each day. Nor is it meant to take the place of saying "I love you" a million times a day.
I made the kids a set of coupon cards today. I found several sites with free printables (see the end of the post for resources) and printed them on Valentine card stock paper. I did 5 cards for each child and made sure they were personalized for things they would enjoy and appreciate.
There were a few printables with blank cards and you could write your own coupon. I wrote one blank one for each child. They were things the kids have been asking to do with us. Juiciness is the one wanting a trip to the planetarium...of course he thought that meant we would go immediately after dinner. He was okay with waiting until the weekend ;) Other than that little snafu they were really excited about their surprise.
Some of the ones we picked were
Play your favorite game

You pick the cereal or snack we buy this week

Mom will help you pick up or organize your stuff one day this month

A trip to the museum of your choice

Choose a restaurant for a one on one date with mom this month

Stay up 20 minutes past bedtime

One no chores day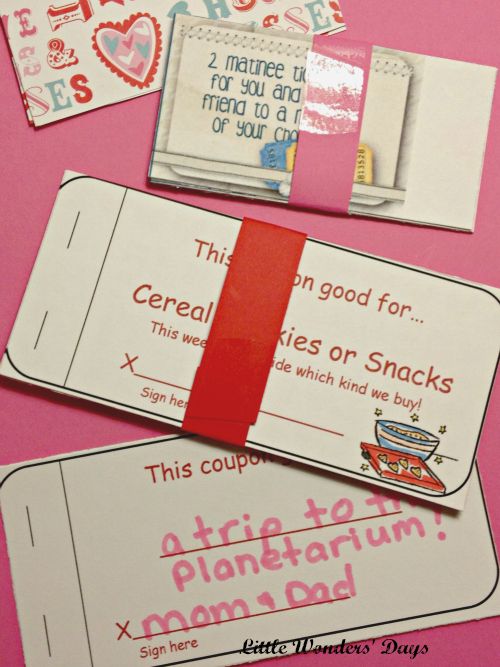 Some resources for kid coupons

Pin It