Instead of doing a "10 Easy and Inexpensive Ways to Show Your Kids You Love Them" post for February, I thought I would invite you to join me for 14 days of ways to show your kids you love them. A little something to do each day leading up to Valentine's Day. Now this isn't meant to mysteriously stop the day after Valentine's Day, it's just a little something fun and a way to get started doing little things each day. Nor is it meant to take the place of saying "I love you" a million times a day.
It's Juiciness's turn to bring the play dough for his class. He and I made a batch of cherry scented play dough
(
our regular recipe
plus 2 packs of cherry Kool Aid)
and his teacher has fun heart shaped cutters and Valentine play dough mats out for it.
The special part is that I plan to stop by his classroom for center time to play with him and his friends. My kids love when I stop by the school to see them or do a special activity
(reading for story time, holiday party, arts and crafts, garden time etc)
. Now, if just stepping foot inside your kid's school
embarrasses them, then obviously this wouldn't be an act of love. You might consider sending them a secret note through the front office, ordering a pizza to be delivered at lunch time, or stealing them away for lunch or an early afternoon off...all depending on their schedule.
Sorry about missing yesterday...we had some sickies (2 with pink eye and one with a really bad cold). So this was day 3...we had some "Heart Attacks", the Valentine kind. This was inspired by this post. I cut out a bunch of little paper hearts and left them in silly places for them to find.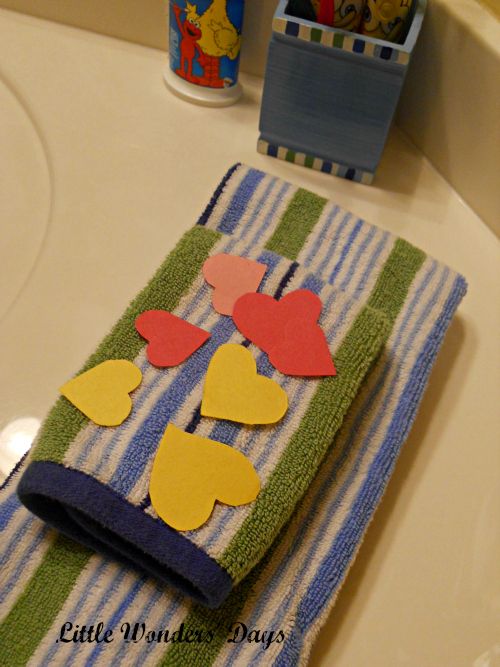 And my favorite...some in the books they're reading. It was cute to see their surprise at hearts falling all over.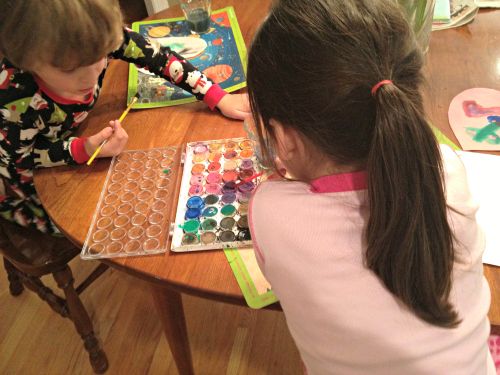 I saw this idea at 71Toes, the mom has her kids make hearts for each other and write things they love about their brother and sisters. So last night, we water painted some hearts and wrote little notes to each other on them. So sweet and so important to them knowing they belong and have a special place in the family.

Pin It