Welcome to the After School Link Up!
We worked on writing our thank you notes this week. Sassyfras and Juiciness are reading a little and writing letters well at this point, but not enough to write an entire letter by themselves. They can do "copy work" well though.
I made a page for them to copy that said, "Thank you" using this site. Then, I stocked their clipboard/lap desk thing
(does it have a real name?)
with blank cards, crayons, colored pencils, stickers, and stamps/ink. I explained that they were writing to say thank you for gifts from people we didn't see when they opened the gift.
I asked them copy the words "thank you" and dictate a sentence or two to me about the gift. They signed their names when we finished.
It took several sittings to get all their notes done, but by then end, they were getting pretty good at them. It also made them very happy to have something to put in the mailbox!
Little J can write his notes independently, he just needs a little prodding to get it done. The promise of a dance party when we finished seemed to be an encouragement!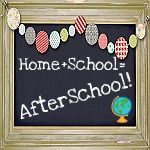 <div align="center"><a href="http://www.littlewondersdays.blogspot.com" title="Little Wonders' Days"><img src="http://i820.photobucket.com/albums/zz128/luraymeister/Afterschool/AfterschoolButtonDraft4.jpg" alt="Little Wonders' Days" style="border:none;" /></a></div>
Co hosted by
The Educators' Spin On I
t and Little Wonders' Days
We would love to have you link up your School-Age Posts (Ages 5 and up) about your learning week after school including, crafts, activities, playtime and adventures that you are doing to enrich your children's lives after their day at school or on the weekend! When linking up, please take a moment to comment on at least one post linked up before yours and grab our after school button to include a link on your post or site! By linking up you're giving permission for us to share on our After School Pinterest Board or Feature on our After School Party next week! Don't forget to follow along and Join our After School Enrichment Community.
Link up your After School Activities, Crafts and Adventures! We'd love to see them!

Pin It