I picked up some paperwhite bulbs for forcing before Christmas, but we just never got around to starting them. It's really easy, so I don't know why we never started them, but it will be nice to have blooming flowers in the middle of winter.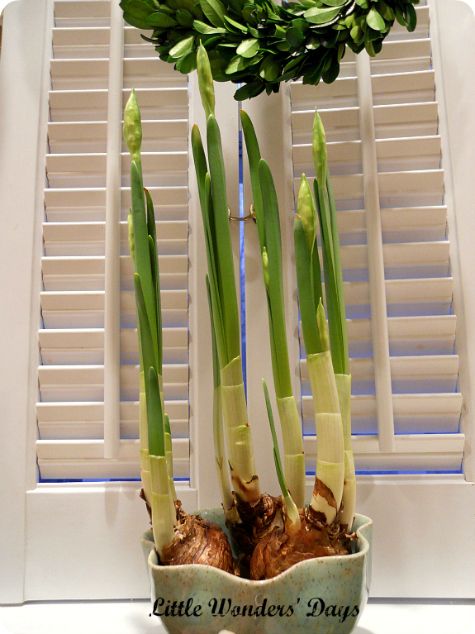 All you need is a shallow bowl or dish
(our bowl is from Anthropology)
and some small stones. We used some of the small white pebbles we found at the beach this year to line the bottom of the bowl. We were able to put three bulbs in the bowl...you'll want enough bulbs so they are tucked in pretty tight and will support each other as they grow. Then, we poured just enough water to reach the base of the bulb
(replace as needed)
and put them in a sunny window. In just a couple of days we could tell they had started to grow. Sassyfras reports on them each morning and is really eager to see the flowers.
Erica at What Do We Do All Day? has a super post detailing step by step how to grow these bulbs...
Kim at The Educators' Spin On It has a great post on how to use these bulbs for journaling and learning about living vs non-living...not to mention a fun idea to give them for Valentine's Day.

Pin It