I've decided to do our advent activities a little differently this year. We're going to borrow from Woldorf and set a rhythm to our countdown to Christmas. Some days might not "fit" the rhythm, so we'll just do what works for us and it will just be okay!
Monday's are make or craft days
Tuesday's are service days
Wednesday's are celebration or themed days
Thursday's are back to nature days
Friday's are go and do activity days
Saturday's are baking days
Sunday's are worship days
The kids are in school right up to the Christmas holiday this year. I'm a little sad that we don't get more time off the week before, but we're still going to have a wonderful and memorable time. It's important to me that we enjoy these magical Christmases and family traditions all while keeping the true meaning of Christmas set before us.
Here are some of my ideas that I'll choose from the night before depending on our schedule.
Tinfoil Christmas trees
Snowflake crafts
Salt painted winter scenes
Service Day
Serve a family member
(do a chore for them, make them a surprise card, rake leaves for grandparents, etc)
Serve a friend
(invite them to lunch, make a small gift or card, etc)
Serve a neighbor
(bring their paper to the door, take in trashcans, walk their dog, etc)
Serve a community helper
(leave a note of thanks, bring a plate of cookies to their office, etc)
Take blankets to the mission or nursing home
Take canned goods to the Food Bank
Take supplies to the animal shelter
Celebrate/Themes
Nature
Winter walks
Bird watching
Pine cone crafts
Shadow puppets
Learn about the solstice, eat by candlelight
Visit a Christmas tree farm
Force bulbs
Go and Do Activity Day
Visit the gingerbread house exhibit
Visit the Christmas train exhibit
Take a horse and buggy ride
Attend a Christmas concert, puppet show, or play
Make a Christmas fort and play in it
Decorate your rooms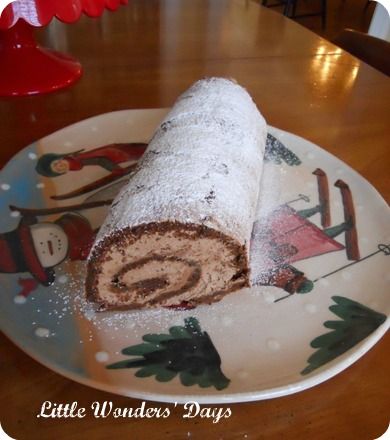 Baking Days
Noel Log
Gingerbread houses
Cookies for Santa
Christmas flavor ice cream (peppermint, gingerbread, eggnog)
Christmas candies
Make great grandma's rocky road fudge
Worship
Read the Christmas story (Luke 2:1-20)
Attend candle light service
Attend a children's Christmas concert
Some of our traditions, like Christmas pajamas (the beginning of December), our Elf Nicholas, reading Christmas books, driving to see lights, Christmas pillowcases, etc aren't on our list as we do them as fancy strikes.

Pin It
Linking to:
The Sunday Showcase
,
Here Come the Girls
,
Link and Learn
,
The Kids Weekly Coop
,
TGIF!