Welcome to the AfterSchool Link Party!
First I want to say, my hearts go out to those living in the wake of hurricane Sandy. I know there were many not enjoying Halloween this year.
We were fortunate to have a beautiful Halloween week. The weather cooled to just the perfect crispness and the leaves were the perfect amount on the trees and ground. At one point on our trick-or-treat rounds I felt like I was in a movie scene.
Over the years I have amassed a collection of Halloween stickers and scrapbook embellishments. I put a tray of these items, glue, chalk, and construction paper on the table for the kids to create with one afternoon. It was a hit! Who knew something so simple could make them so happy.

Pin It
We would love to have you link up your School-Age Posts (Ages 5 and up) about your learning week after school including, crafts, activities, playtime and adventures that you are doing to enrich your children's lives after their day at school or on the weekend! When linking up, please take a moment to comment on at least one post linked up before yours and grab our after school button to include a link on your site!!! By linking up you're giving permission for us to share on our After School Pinterest Board or Feature on our After School party next week!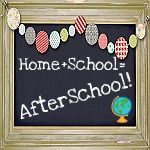 <div align="center"><a href="http://www.littlewondersdays.blogspot.com" title="Little Wonders' Days"><img src="http://i820.photobucket.com/albums/zz128/luraymeister/Afterschool/AfterschoolButtonDraft4.jpg" alt="Little Wonders' Days" style="border:none;" /></a></div>