Welcome to the AfterSchool Party!
I have little ones under the weather again, so activities have been pretty minimal and easy going. We've done our share of puzzles, lego, play dough, book reading, painting, cutting, tracing, etc this week. We did manage a couple of soccer practices. It feels like we just started the season, but there are only a couple of games left. Little J's team is undefeated this season, so they will get to play in a tournament for the first time. He's just a little excited.
One of our fun crafts was making these paper jack-o-lanters after reading Pumpkin Hill by Elizabeth Spurr.
Using a pencil I marked lines on orange cardstock and they cut the strips out using some crafts scissors. Then they spread the strips out in a spiral, overlapping the ends. I helped them staple the strips together. They needed help to hold all the pieces together at the top and staple them too. Then they glued leaves and eyes on them. They curled a chenille stem on their fingers and then pushed it through one of the papers to secure it. There you have it, cute little jack-o-lanterns!
Last Week's Party Features!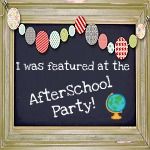 Terri at Creative Family Fun shared a printable Halloween word search she made for her daughter. I think I'll print a couple of these out for a pre Halloween dinner activity.
Jeannine from Waddlee-ah-chaa shared this printable of the Five Little Pumpkins and turned it into an super cute puppet show. Sassyfras's class has memorized this poem and I know she would love to put on a little show for us.
I hope you enjoyed last week's features. Thank you to everyone who linked up to the party. I hope you join us this week!
I'm your official host this week, but I'm joined by these other great blogs to bring you the AfterSchool Link Party.
Linking to:
Link and Learn
,
The Sunday Showcase
,
It's Playtime!

Pin It
We would love to have you link up your School-Age Posts (Ages 5 and up) about your learning week after school including, crafts, activities, playtime and adventures that you are doing to enrich your children's lives after their day at school or on the weekend! When linking up, please take a moment to comment on at least one post linked up before yours and grab our after school button to include a link on your site!!! By linking up you're giving permission for us to share on our
After School Pinterest Board
or Feature on our After School party next week!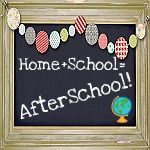 <div align="center"><a href="http://www.littlewondersdays.blogspot.com" title="Little Wonders' Days"><img src="http://i820.photobucket.com/albums/zz128/luraymeister/Afterschool/AfterschoolButtonDraft4.jpg" alt="Little Wonders' Days" style="border:none;" /></a></div>