I try to make a cute after school snack for the first day of school. The last couple of years were giant chocolate chip cookies. Last year was an apple and the year before was a school bus.
Our afternoon snacks are usually pretty healthy. This ice cream bombe certainly isn't, but it was definitely fun! It's simple to make too.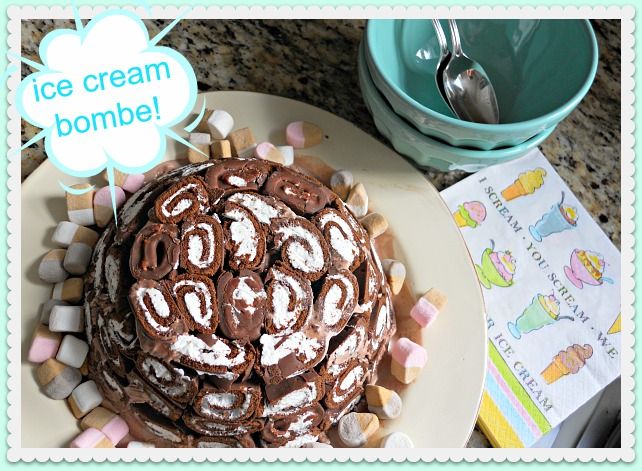 Supplies
softened chocolate ice cream
Little Debbie Swiss Rolls (1 box is enough)
2.5l metal bowl
plastic wrap
cute ice cream cone shaped marshmallows optional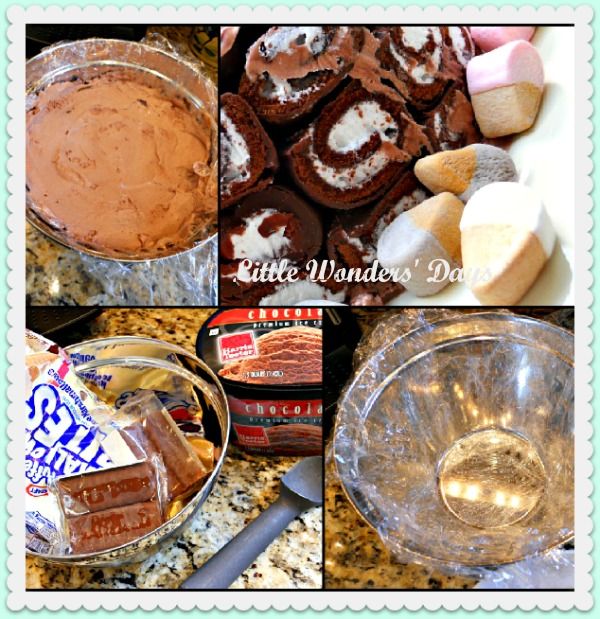 How to make it
Line the metal bowl with plastic wrap and put it in the freezer to chill. Set the ice cream out to soften while you slice the Swiss rolls. Slice the Swiss rolls into about 1/2 inch rings. You don't need to be perfect. Then get the bowl out of the freezer and start lining the bowl with the Swiss rolls. You only need to do single layer of the Swiss rolls and stop before you get to the top. I went about 2 inches below the top of the bowl. Then, carefully scoop your chocolate ice cream over the Swiss rolls. I used a rubber spatula to smooth the ice cream. Then cover the top with more plastic wrap and return to the freezer. Let it freezer firm for several hours. To serve, remove the plastic wrap cover and inverted the bowl over a platter. Remove the bowl by pulling the plastic wrap lining away from the bowl and then gently remove the wrap from the bombe.
Serve in slices or scoops!

Pin It
Linking to:
TGIF!,
For the Kids Friday
,
Sharing Saturday
,
Saturday Show and Tell