We're running down to the end of our summer fun and will be wrapping up our
"summer bucket list" this week and gearing up for school. "Make summer memory jars" is on our list. Although we haven't pulled it yet, we decide to rummage through our leftover slips to find it. We figured we could bend the rules a little now.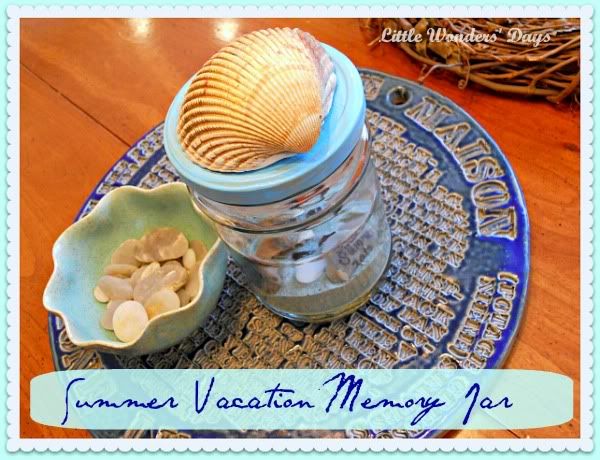 This project was so
easy, inexpensive, and fun!
We recycled a glass jar and used our recent beach finds to fill it. Little J found a bunch of fossilized shark teeth this trip. We've started calling him "the shark tooth whisperer" (he even found some at night while we were on a crab walk!). I collected small white stones that seemed to be everywhere. Juiciness and Sassyfras collected shells and various rocks.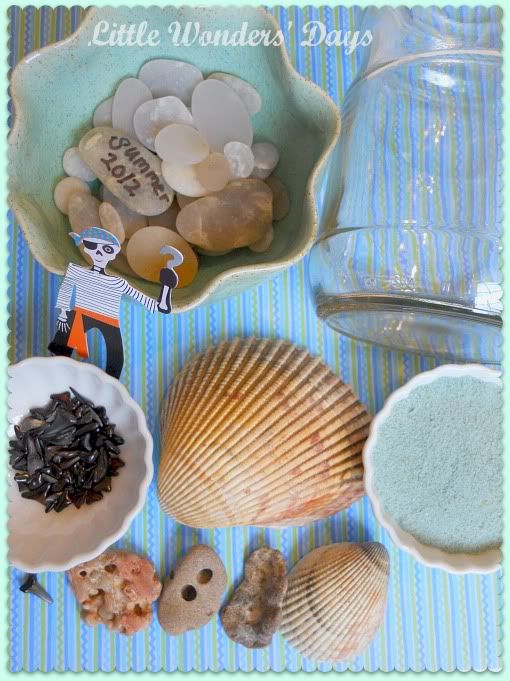 We also colored some beach sand to use in the bottom of the jar. To color the sand, we added a few drops of blue food coloring and stirred it. Then, I microwaved it in 30 second intervals, stirring in between until the sand was dry. Be careful, the sand will be hot! I waited for it to cool before putting it out for the kids to use.
Little J also put in a pirate decoration from his party. To finish the jar, we painted the lid and glued a giant cockle to the top of it. It sits along side a bowl of white stones on our kitchen table now.

Linking to:
Super Link Party
,
All Year Round Blog Carnival
,
Red Ted Art's Blog
,
It's Playtime!
,
The Mommy Club
,
Weekly kid's co-op
,
For the Kids Friday
,
TGIF!
Friday's Nature Table
,
Sharing Saturday
,
The Sunday Showcase
,
Show Me What Ya Got