The kids wanted to play with some play dough yesterday, so we made a new batch. I wanted to do a summer, beachy tray for them since w
e'll be spending some time at the beach soon. I used coconut extract and lemon/lime Koolaide with a little fresh lime juice in our standard play dough recipe to come up with our new
batch-

Coconut Lime

. It smells so good!!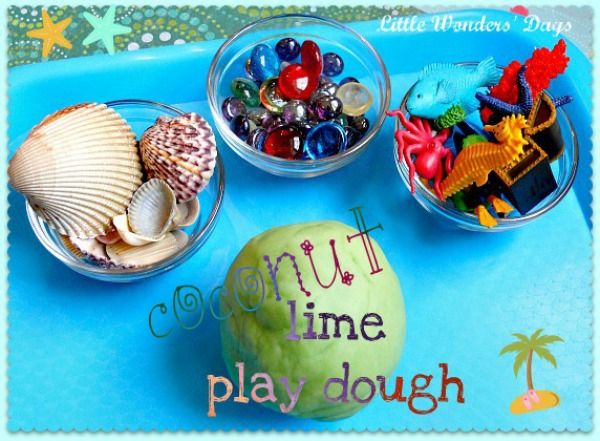 Our Tray
Shells from past beach trips
plastic animals from our Coral Reef Toob
Our Basic Recipe
2 tablespoons of vegetable oil
1 tablespoon of cream of tartar
Then Add this to make Coconut Lime!
2 teaspoons of coconut extract
1 pack of lemon/lime Kool-Aid
Place all
ingredients, except coconut extract and fresh lime juice, in a sauce pan and cook over medium heat. Stir until a ball of play dough starts to form and thickens into play dough
consistency. Remove from heat and turn dough out onto a heat safe surface. When cool, knead smooth and add coconut extract and fresh lime juice. Store in an airtight container.
Sassyfras played with her tray for a looonnnggg time. She made and remade her version of a coral reef several times. We had a great time with our summer play dough!