I just wanted to let you all know that I appreciated your kind words, emails, thoughts, and prayers in response to my "Not so Fun Post". I'm still processing through that day, but I think we're all healing pretty well. I think I will always carry a little sadness with me from that day. However, I'm going to force myself out of my funk and return to blogging world. Here's a fun post to come back with..


The Rules:
1. Post these rules.
2. Post a photo of yourself and 11 random facts about you.
3. Answer the questions given to you in the tagger's post.
4. Create 11 new questions and tag new people to answer them.
5. Go to their blog/twitter and let them know they have been tagged.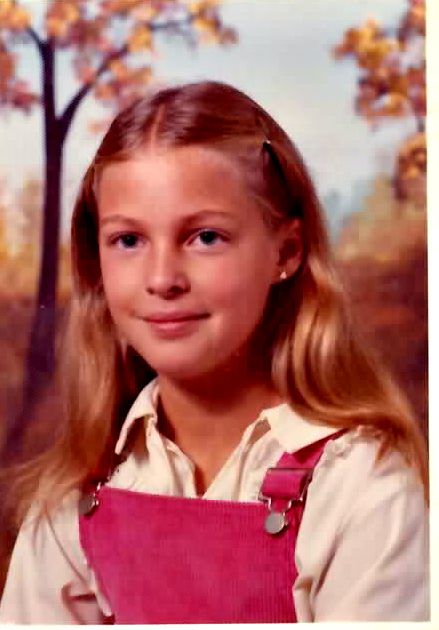 This is me when I was about 9 or 10. It's hard to tell from the picture, but I have blue eyes. Although I'm wearing pink, don't be deceived. I liked some girly things, but I was a bit of a Tom boy. I loved playing in creeks, climbing trees, chasing lizards and whatever else I thought I could catch, and I was fiercely competitive.
I spent the first five years of my life in Germany. I supposedly understood and spoke German, but unfortunately no one in my family did, so when we returned to the states it became a lost language for me.

I love to sew, cook, and garden. I used to do stained glass, but I don't find much time for it anymore.

I like to compete in triathlons, but I'm really no good at them. It's more for fun and exercise.

I've been a Make-A-Wish volunteer for about 12 years.

Chocolate ice cream is my weakness. My husband knows this and brings it home instead of flowers.

I don't mind little bits of clutter here and there in the house, but I can't stand sticky or crumby floors. I vacuum or mop or both daily.

I hate doing laundry, but there really seems no good way around doing it. Can't wait for the kids to be able to do it all themselves. They put it in the washer and can help get it to the dryer. Little J can put away most of his clothes and the twins are learning.

My grandfather taught me to fish when I was 5 and I still love to go fishing. I think of him every time we fish.

I prefer skirts or sundresses to shorts in the summer and have my hair in a pony tail most days.

I hate going shopping, so I'm really glad for the internet. I can even order my groceries!

I love being at the beach and seriously think I could be a beach bum when I retire
Phyllis's Questions
1. What is your favorite blog post you have made?
I think I enjoy our the posts from our summer bucket activities in general. I enjoy reading them and remembering all the fun we had on a particular day.
2. Do you have a blog post that affected you, made you think, changed you in some way? Include what blog you saw it on, and a link, if you can.
There are probably a good number of these type of posts out there. However, there is one post I saw on Pinterest. It's the 30 Day Mom Challenge from imom. I know this is what we should be doing as parents and hopefully, I do most of them on any given day. However, I think it is a good reminder to be present with your kids and parent with purpose.
3. Have you ever met in real life anyone that you knew through their blog?
No, but I do think it would be fun to meet some of my favorite bloggers...and yes, that includes you
4. What is your favorite subject to teach? Why?
We don't home school, but if if you read my blog, you know we do a lot of after schooling. I tend to teach about things my kids are interested in at the moment, are studying in school, or needing a little extra help learning. However, science is probably my favorite subject to teach.
5. What is your least favorite subject to teach? Why?
I would probably have to say history would be my least favorite subject to teach. I find it difficult to plan lessons for the kids that are interesting and engaging.
6. What type would you say your teaching style falls under? It can be more than one.
I probably have a mix of teaching strategies that I use with my kids. I try to demonstrate a lot of what we do, but then turn it over to the kids to participate and collaborate in whatever we're doing.
I tend to do a lot of hands on, real experiences. My kids like playing pretend, but would much rather work with real items/activities. For instance, they have a play kitchen and enjoy playing together there. However, they would much rather be in the kitchen with me reading a real recipe, measuring and mixing real ingredients, and serving a real creation they make. Another for instance is if we're studying insects, we're outside hunting for insects and observing them, not just reading a book or watching a video.
7. Is there some project in your home school that you would like to do, but haven't been able to do it yet? Why do you want to do it and why haven't you been able?
I'm sure there are plenty of projects I think about doing that we just never get to do. Probably the biggest reason is making the time for it to happen.
8. What do you consider the most important goal for your school?
My goal for after schooling is to simply to spend time with my children teaching them and watching them have fun while learning about the world around them. Children are naturally curious and seek to explore, learn, and understand.
9. What is the favorite blog post (you have written) of your readers? Were you surprised?
The first time we tried shaving cream painting was around Easter last year. We made egg shapes and made them into our Easter cards to family. I thought they were pretty and the kids thought they were fun, but I really didn't think too much about it. So yes, I was surprised when it was a huge hit with my readers.
10. What is something you have since learned that you wish you knew when you started homeschooling?
Like I said, we don't home school. However, one thing I can tell you about our "after schooling" is to make sure you stay balanced and don't schedule too much or expect to get to everything you wish you could. It needs to stay fun and relaxed. My kids just think most things I plan are fun and are called "projects".
11. Is there a blog that shows a home school that you are striving to be more like? What do you admire about their home school?
Well of course I love Phyllis's blog. I'm amazed how much she teaches in the course of a week to a range of ages. Then, to top it all looks fun and interesting.
I don't think I'll tag anyone right now, but if you want to play along for fun or respond in the comments, here are a few questions that I'm curious to know...
1. If you could take a summer vacation anywhere with your family, where would it be and why?
2. What is your favorite summer dinner to make...do you have the recipe to share?
3. What mindless summer book are you reading right now?
4. If you get an hour to steal away by yourself, what do you do?
5. What is your best childhood summer memory?
Pin It