My kids are larks. They are awake every morning no later than 6:00! I'm trying to get them to sleep a little later, at least during the summer. I'm a morning person too, but I sure would love to linger in bed just a little longer. What usually brings them to my room is their hungry tummies. So, I thought perhaps making a little self serve breakfast tray might buy me a few minutes in the morning. We won't use it every morning because I do like making a hot breakfast a few days each week, but it will be nice to let them be self sufficient some days as well.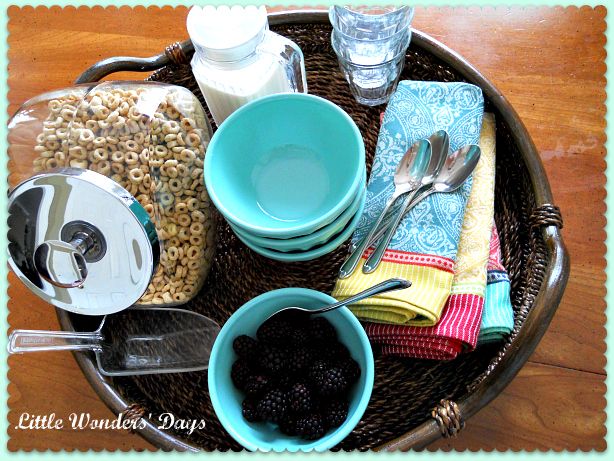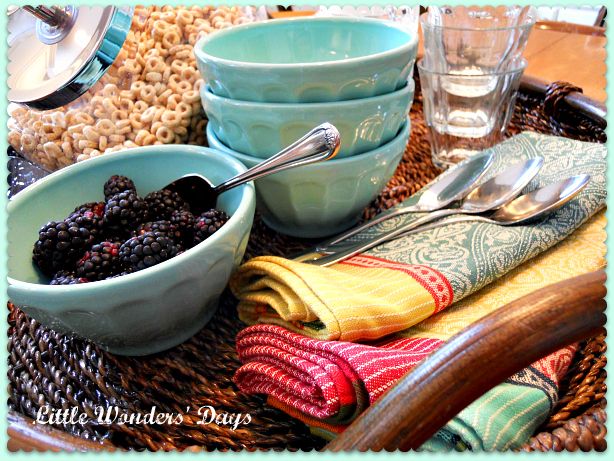 I used a tray to hold everything they would need to start a little breakfast for themselves. There is an easy to use canister
(found at Target)
filled with Cheerios and a scoop to get them out too. They love fruit in the morning, so I washed some berries and set them in a bowl. Bowls, spoons, glasses, and napkins are all there too. I filled a small pitcher with milk and set it in the refrigerator where they could reach it. I supervised the first morning to make sure they knew how to get everything they needed and then they were on their own. This is where having lots of Montessori practical life training comes in handy!
Pin It
Linking to:
Sun Scholars
,
Kid's Weekly Coop
,
TGIF!
,
Ready4Summer Blog Party
,
Creative Genius
,
Sharing Saturday
,
Be Different Act Normal
,
Sunday Showcase
,
Link and Learn
,
Montessori Monday
,
Simply Link Party
,
Making the World Cuter
,
Made by You Monday