We lucked out again this year and all the kids teachers were wonderful. It feels so good when you send your kids off to school and know that not only are they going to learn a lot that day, but that they are well cared for too.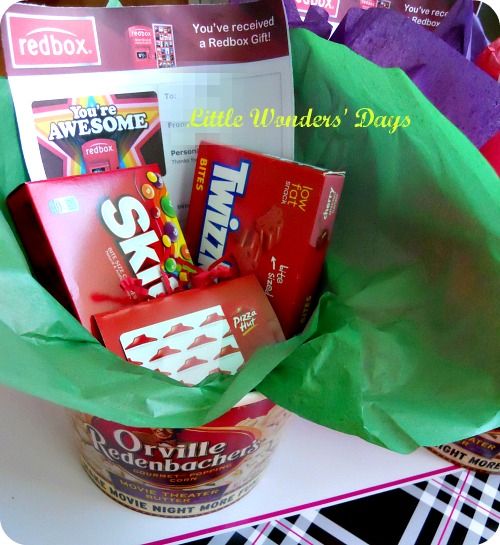 We put together these "Dinner and a Movie" treats for each of the kids' teachers. The container is one of those popcorn buckets that has the popcorn in the bottom. The container holds a Redbox code for a movie, some candy, and a gift card for a pizza. This will be their teacher appreciation and end of the year gift from us. If you wanted to keep the cost down, you could skip the pizza and add a soda and I think it would still be a very nice and fun gift. What I really like about this gift is that it can be enjoyed by anyone, it doesn't matter if the teacher is male or female, single or has a bunch of kids, it's still good to go!
Pin It
Linking to:
Creative Genius Party
,
For the Kids Friday
,
TGIF!
,
Kids Co-Op
,
Once Upon a Weekend
,
Show and Tell
,
The Sunday Showcase