Welcome to the AfterSchool Party!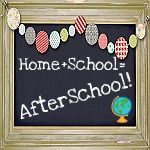 <div align="center"><a href="http://www.littlewondersdays.blogspot.com" title="Little Wonders' Days"><img src="http://i820.photobucket.com/albums/zz128/luraymeister/Afterschool/AfterschoolButtonDraft4.jpg" alt="Little Wonders' Days" style="border:none;" /></a></div>
MaryAnne at Mama Smiles is this week's host. She is joined by these other blogs to bring you AfterSchool each week:
It's been another one of those busy weeks. Soccer season has finally finished, but now swim team has started. Our evenings are still cool here, so the kids basically did "polar bear" swims all week, but loved every minute of it.
I've been busy getting ready for our annual "Road Trip with Nana". This year we will be going to Washington DC and the Baltimore area. I thought I would share a few books and things I will be doing with the kids before we go so they will understand a little more. We love our summer road trips with Nana, fun memories for sure.
First, I ordered a visitors guide to DC from here. You can download a copy too. I found it pretty helpful.
For our books, I picked up most of them books from the library, but I did purchase this one, A Kid's Guide to Washington D.C.. It was really a good starting point for me. It highlights the sites that children will enjoy and sprinkles in fun factual tidbits for kids. The appendix lists contact information for various sites, making on line searches very easy. Our other travel guides are Access Washington DC by Richard Saul Wurman, Fodor's 2012 Washington D.C., and some AAA resources.
The kids and I are slowly reading through America The Making of A Nation Charlie Samuels. The book is filled with snippets of American history. There are "pull outs or fold outs" on just about every page that seem to engage the kids.
Little J and I are reading Time for Kids, Presidents of the United States. It goes from the 1st to the 43rd president and gives a very brief overview of each president. It's not a perfect book...we are talking politics here, but I'm hoping as he reads it that it will spark his interest to do further research on specific presidents.
Pin It