The kids helped me make strawberry meringues using

this recipe

from allrecipes. It is a very simple and good recipe. They are a little sweet for my taste, so I will probably decrease the sugar a bit next time. Also, I had to cook mine about 20 minutes longer than the recipe called for as mine were still chewy. Your meringue should not be chewy!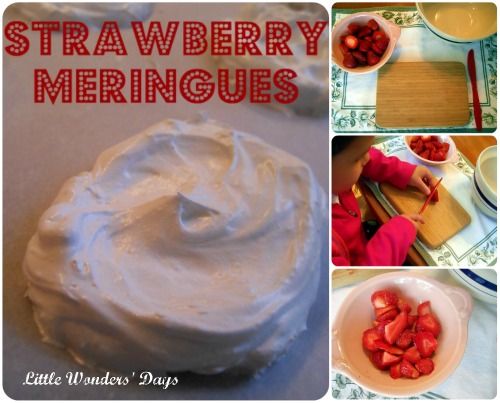 Sassyfras helped cut the strawberries for the topping. She did a great job! They're not all uniformly cut, but they're cut. There was only one problem with my plan...this girl can eat her weight in berries. When she finished cutting them up, she brought me her finished bowl and well, about a fourth of the berries were there! Good thing we had plenty more.
The topping is a simple fresh whipped cream and strawberries. The recipe calls for powdered sugar in the whip cream, but since the meringues were already really sweet, I omitted all but 2 tablespoons of the powdered sugar. We garnished it with a sprig of spearmint from our sensory garden. The kids loved picking from their garden already!
I link to these parties