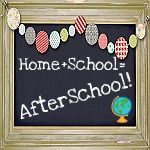 <div align="center"><a href="http://www.littlewondersdays.blogspot.com" title="Little Wonders' Days"><img src="http://i820.photobucket.com/albums/zz128/luraymeister/Afterschool/AfterschoolButtonDraft4.jpg" alt="Little Wonders' Days" style="border:none;" /></a></div>
Welcome to the AfterSchool Linky Party!
The Little Wonders have been enjoying another week of great weather, a little cool at the beginning, but still so nice. We're getting ready for spring break. I'm so excited to have them home!!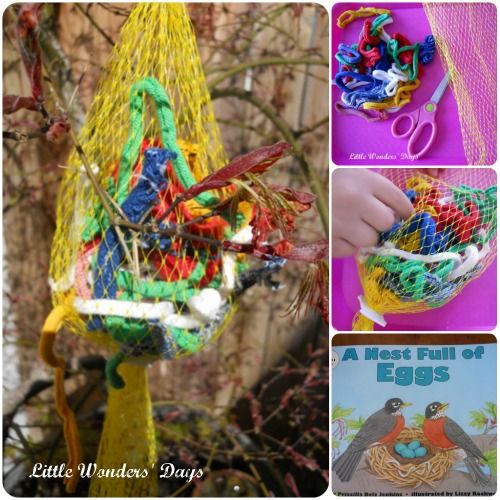 We made a nesting materials bag for our bird friends. I haven't seen any birds using it yet, but it doesn't look as full as it did either. It was simple to make and the kids enjoyed doing it.
Then we made these sweet nests for our sweet teachers and a few other special people. It was cute to see the kids' expressions when they gave them to their teachers.
I found Meyer lemons at the store and the kids helped make some Meyer lemon sherbet for dessert one night. Boy was it good!
April is National Poetry Month. I thought I would share a few ideas with you that we'll be doing at our house to celebrate.
The kids generally eat breakfast together, so I'll be reading a poem or two from one of our books.
Our book list
Where the Sidewalk Ends by Shel Silverstein
When We Were Very Young by A.A. Milne
This link takes you straight to a PDF file for a 2nd grade poetry unit. I generally try to link to the main source, but I can't find it, so... Anyway, it takes you through 4 weeks with various lessons each week. It's geared toward school, but I should be able to adapt it to home use for us. The younger two will probably do more arts and crafts to accompany some poems. We'll see how it goes...
How was your "AfterSchool" week?
Please join us and share your after school activities this week. We always have wonderful links that I enjoy reading, so I hope you'll stay see what others have been doing. Please take some time to comment on other posts while you're at it. I'd love for you to grab a party button or put a text link on your post(s).
Pin It