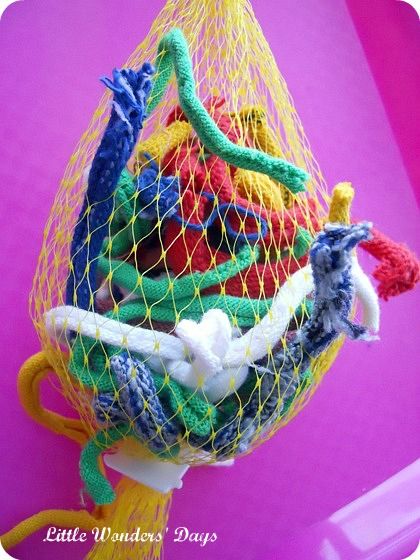 We watched a Tufted Titmouse busily collecting leaves and other items while we were at the park the other day. We assumed it was for its nest. Which reminded us that we had read about helping the birds with nesting materials in the book "A Nest Full of Eggs" by Priscilla Beiz Jenkins. Cornell has more information about nesting birds here.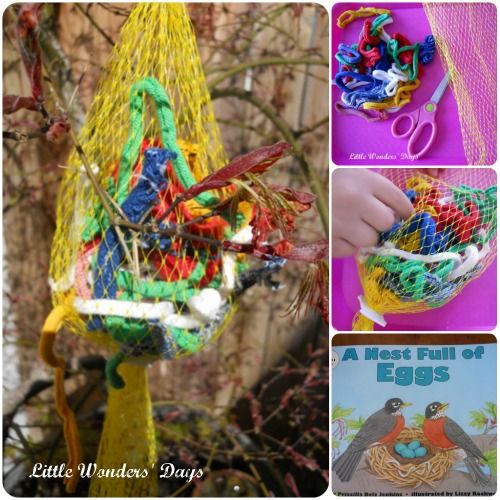 When we got home, the kids made this bag to set out for the birds. I rummaged through my craft stash until I found some hand me down cotton potholder loops.
Supplies we used
A mesh bag (the kids lemons come in)
hand me down all cotton potholder loops
scissors
How we did it
The kids cut the potholder loops in half and then put them in the mesh bag. Juiciness and Sassyfras needed a little help with this...I guess using kid scissors and the loops being a little thick made it more difficult. Little J zipped on through his pile.
Then they pulled some of the ends through to make them easier for the birds to notice and grab. We tied the ends closed and hung it on a tree in the backyard.
Pin It
Linking to:
Red Ted Art's Blog
, stART, Friday's Nature Table,
TGIF!
, For the Kids Friday,
Link and Learn