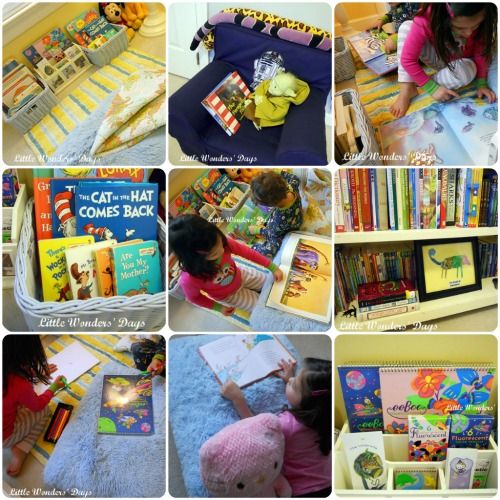 I wanted to get this project finished in time to celebrate Dr. Seuss's birthday, but I didn't have as much free time this week as usual. I have a feeling you know what I mean!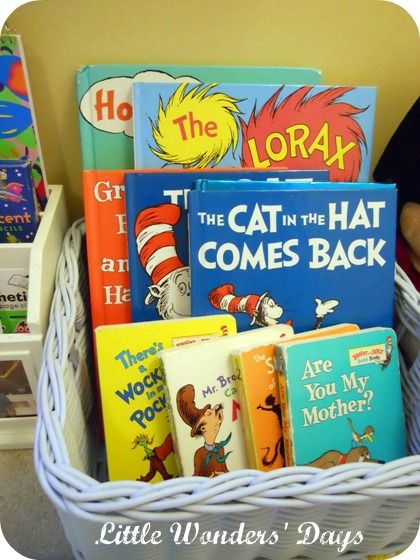 Little J has had a wonderful reading area set up in his room for years. He practically lives with his nose in a book. We also have books for all ages in just about every room of our house. However, Juiciness and Sassyfras's room needed a better reading area.
Really, you just need some good books and a cozy, quiet place to read. However, to make it a desired destination, here is what I think you need for a perfect kid's reading space.
10 Things to Make a Great Kids Reading Space
Great books

A way to display and store

great books

A comfortable place to read

Good lighting

A pleasant, cozy environment

Book marks

Material to write or draw your own story when you're inspired

A good children's dictionary

A place to write questions

A way to listen to audio books

Great books
Libraries, bookstores, school websites are all great places to look for great book lists. We've mostly built our home library from hand me downs, scholastic book orders, and Amazon.

I'm updating this post since I've thought about it more... Amy at Let's Explore has monthly book lists that are fantastic and Laura at Come Together Kids has recently posted 50 great books. Both blogs are incredible children's blogs!
A Way to Display and Store Great Books
Little J has room for a small bookshelf in his room. We chose baskets for Sassyfras and Juiciness's room. It's easier for them to return their books and saves on space. There are several more baskets in their closet filled with books. I plan to rotate one general basket each week and then have another basket filled with books about our current learning theme or author study.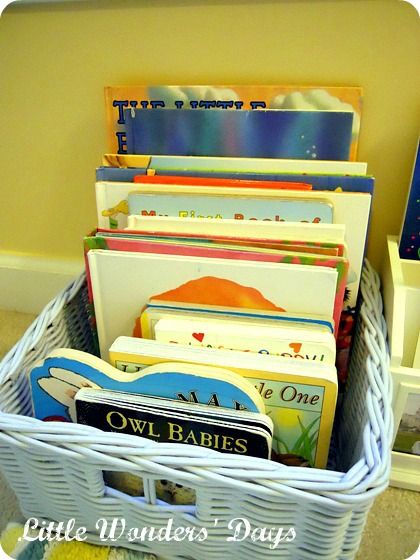 A Comfortable Place to Read
Anything like beanbags, chairs, pillows, and beds make great places to read. Little J has a PBK kids chair that he likes to sit to read. I used an over sized fuzzy pillow and small throw rug for Juiciness and Sassyfras and they seem to really like it.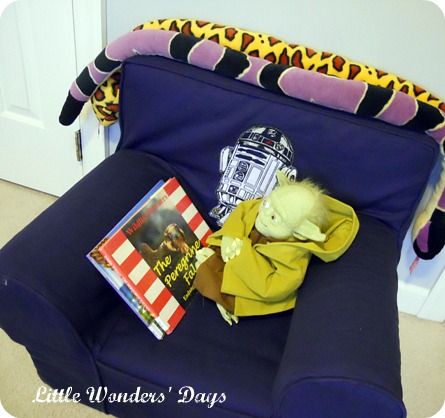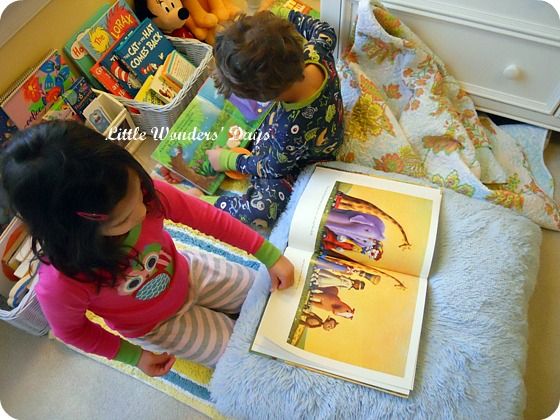 A Pleasant, Cozy Environment
Kids love cozy spaces. Just think how much they love forts. I used a corner area in Sassyfras and Juiciness's room to make it feel more enclosed. Then adding elements like a cute rug, small blankets, stuffed animal friends, and some pictures made it all very inviting.
Bookmarks
You can buy them, make them, or improvise (we've used flashcards, post it notes, etc). To print your own, just Google printable bookmarks and you'll find plenty of options. Jan Brett has a great assortment of printable bookmarks.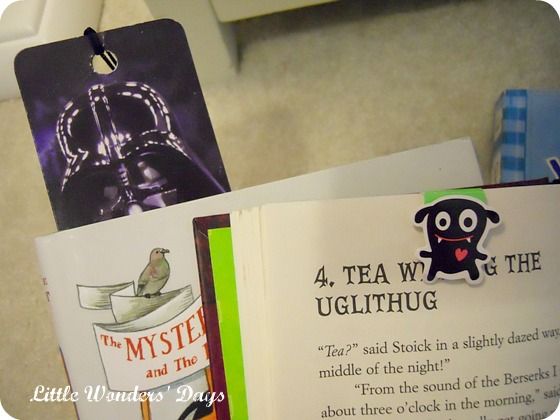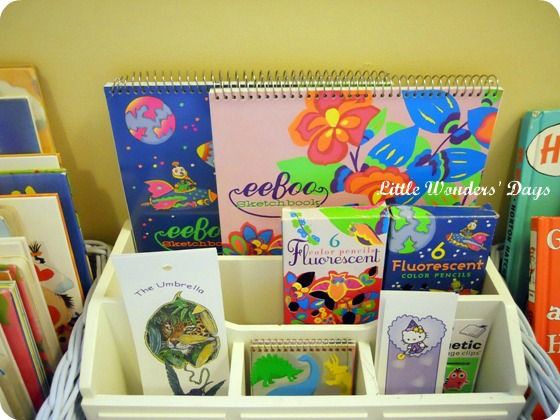 Material to Draw or Write Your Own Story When You're Inspired
I had an extra organizer that I stocked with sketchbooks, bookmarks, and notebooks. I've pictured their color pencils here, but in reality those live safely in the kitchen office area. I'm not brave enough to leave them unattended with that much color! The sketchbooks are being kept in their room though so they know they can draw as they please, just so I'm aware. Little J has all sorts of writing and drawing materials on his desk and uses them responsibly at this point.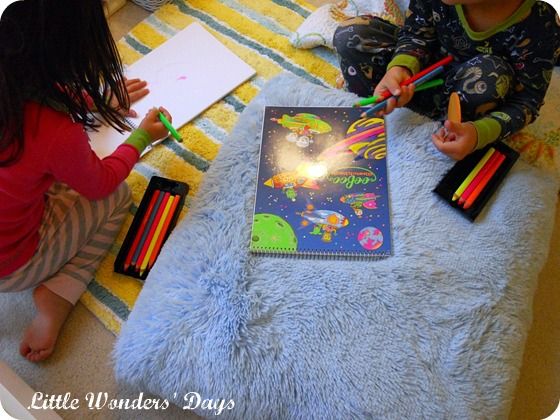 A Good Children's Dictionary
This is really for kids that are reading. Little J has a DK Children's dictionary and a Scholastic Children's dictionary.
A Place to Write Questions
Again, this is for kids that are reading. It seems like Little J has countless questions after reading most books, especially nonfiction books. Sometimes I simply don't know the answer or don't have immediate time to answer sufficiently. Having paper and pencil available makes it so he can jot his questions down and go look up the answers later.
A Way to Listen to Audio Books
This is the last thing needed in Sassyfras and Juiciness's space. I'm on the hunt for a small child friendly CD player for their room. Little J loved audio books at their age and I want them to be able to set these up independently.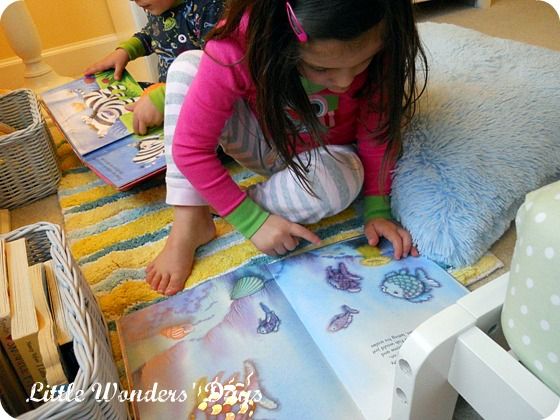 Pin It
Linking to:
Show and Tell
,
The Sunday Showcase
,
Link and Learn
,
Made by You Monday
,
ABC and 123
,
Sharing Saturday
,
Serenity Now
,
Dr. Seuss Birthday Party
,
Beneath the Rowan Tree
,
Montessori Monday Link Up
,
Teagan's Travels
,
Wednesday Wowsers
,
A Crafty Soiree
,
For the Kids Friday
,
TGIF!