14 Days of Hearts, Day 9
I fell in love with homemade watercolor paints a year or so back. They're so easy to make and it's nice to be able to make specific colors or shades for the kids. Our go to recipe comes from
Martha Moments
. My only complaint is that the finished product has some graininess to it that I've never been able to fix. You might be able to see some of that in the picture below.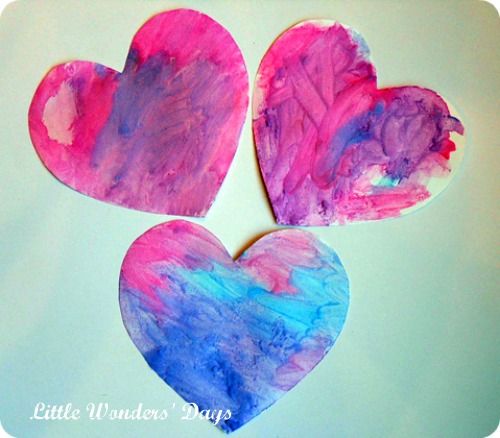 To make watercolor paints
Mix 4 tablespoons of baking soda with 2 tablespoons of vinegar, stir until the fizzing stops. Add a 1/2 teaspoon of corn syrup and 2 tablespoons of corn starch and mix until smooth. I didn't have any corn starch today so, I used cake flour instead and it worked just fine. I divide the mix into bowls and then add gel food colorings. We let these dry overnight, sometimes we just use them right away though.
I gave the kids hearts cut from watercolor paper. It's a bit more expensive than regular paper, but the watercolors seem to work much better on this paper. These are going to be Daddy's valentines. I'll help Juiciness and Sassyfras write something nice later, and Little J will do his own.
Linking to:
Thrifty Thursday
,
It's Playtime!
,
Link and Learn
,
Delicate Construction
,
Made by You Monday