We're heading out in the morning to do our bird counting for the Great Backyard Bird Count. We don't get a good variety of birds in our own backyard, so we're going to a science/nature area with some feeders set up that attract a wide variety of birds. The GBBC is going on from February 17th-20th and you can find more information here.
We've packed my grandfather's binoculars, a state pocket bird guide, a pencil, the GBBC data collection sheet and a clipboard. We've decided to go early in the morning and then hit our favorite cafe for pancakes!
I found these little birds at Rebecca's Misc. and thought they were beautiful. Little J cut them out and we hung them on our ornament tree. We've been using them to learn the names of various birds we might see while doing our count.
Oh, I almost forgot. Natalie at Mouse Grow, Mouse Learns tipped me off to this great website that allows you to listen to different bird calls. What is interesting about it, is that it gives you the bird's song, mating call, and alarm call. We've listened to a few to see if we can notice any as we watch the birds.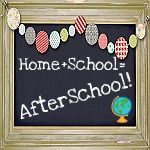 AfterSchool Linky Party right here every Sunday!
Linking to:
TGIF!
, Fun for the Kids Friday,
Fun Stuff Friday
,
The Magic Onions Friday's Nature Table
,
Thrifty Thursday
,
Sharing Saturday
,
The Sunday Showcase