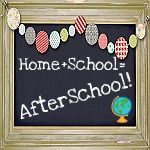 <div align="center"><a href="http://www.littlewondersdays.blogspot.com" title="Little Wonders' Days"><img src="http://i820.photobucket.com/albums/zz128/luraymeister/Afterschool/AfterschoolButtonDraft4.jpg" alt="Little Wonders' Days" style="border:none;" /></a></div>
AfterSchool is also co-hosted by:
The Little Wonders had a pretty laid back week of after schooling.
Little J finished his timeline of Abraham Lincoln while the twins played with Lincoln Logs on Presidents Day.
We celebrated Mardi Gras on Tuesday and talked a bit about some of Daddy's memories of New Orleans.
The the majority of the week was spent playing at parks or taking spring walks. Our weather hit up into the 70's! Sassyfras even hollered, "Oh no, what happened to that tree? It's pink!" So yes, our trees are starting to bloom.
We were going to start some of our egg experiments yesterday, but poor Juiciness spent the afternoon getting stitches in his eyebrow. He wanted to help Daddy vacuum, but Daddy didn't know he was behind him and the vacuum and Juiciness's eyebrow collided. He was a trooper though and let the plastic surgeon fix him all up. Then he spent the rest of the evening getting the royal treatment from Sassyfras and Little J. He looks like a little prize fighter this morning, but cute as ever.