We decided to do a very simple family fun night last night and I mixed it in with our Friday Fun. The theme of the night was "Winter is the Warmest Season" based on the book by Lauren Stringer.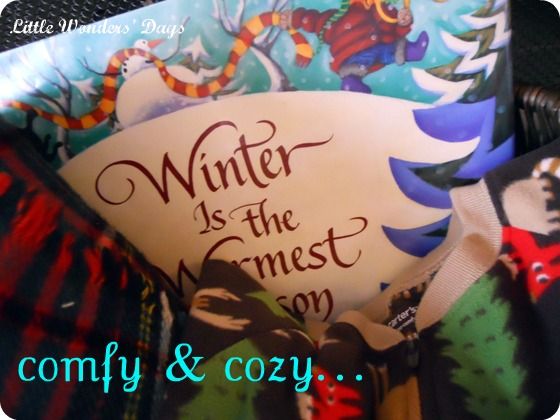 I love this book! It is about a child who decides that winter is warmer than summer because of hot cocoa, grilled cheese sandwiches, woolly hats and mittens, warm blankets, cozy cats, and much more. The illustrations are beautiful too.
I filled a basket with the book, quilts, and footy pajamas for the kids in front of the fireplace.
After we picked Little J up from school, we headed to a favorite park to play. As you can see, the weather was cooperating perfectly and it was freezing. I kid, what is up with this winter weather?! It was close to 60 degrees when we arrived at the park. So much for bundling up in hats and mittens. It did make me feel better that the rain was coming in as we left and the temperature had dropped significantly. Maybe we would be able to sit by the fire after all...
After having hot bubble baths and getting into their warm and cozy jammies, the kids helped me make dinner. Daddy arrived home just in time to join the fun.
We made grilled cheese sandwiches, oven baked fries, and apple wedges with yogurt dip.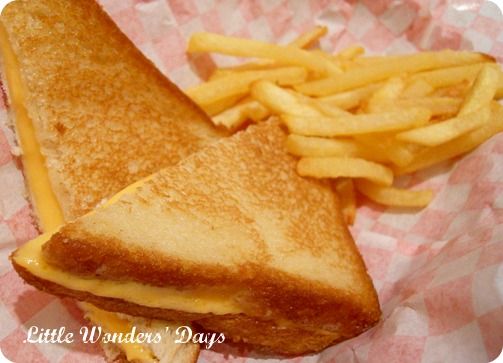 I made some hot cocoa and we gathered by the fireplace to read the book, Winter is the Warmest Season. We played a few board games and put together a few puzzles before settling in to watch The Backyardigans The Snow Fort.
This was an easy family night to pull together. I had everything on hand. If you want to replicate this night, this is what you'll need...
copy of the book, Winter is the Warmest Season by Lauren Stringer
quilts or blankets
warm and cozy jammies
grilled cheese sandwich makings (butter, bread, and cheese)
favorite side dishes
hot cocoa, whip cream, marshmallows
family favorite board games, puzzles, movie