I haven't been posting or commenting for the past couple of days because Sassyfras and Juiciness have had croup...the entire week! As you probably know, it gets worse at night...so that means very little sleeping around here. Anyway, I thought it was a good time to dig into my archives and repost my sick day tips. I think we'll be doing a refresher "tea party" when everyone is well. See you soon and stay well! Also, thank you for you many kind comments and awards. I will reply soon.
I bet you think this is cute little tea party we're having.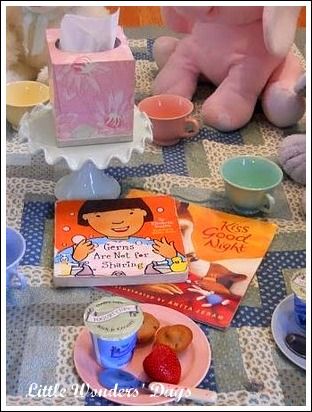 But, it's not. It's a share great times together, but keep your germs to yourself party. With cold season insight, I wanted to make sure to start teaching Juiciness and Sassyfras about keeping healthy.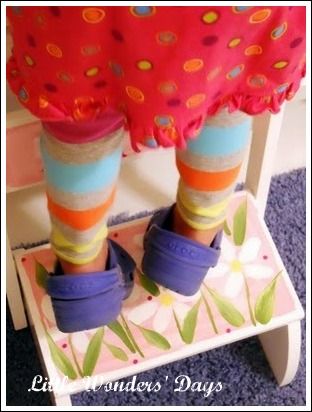 We talked about when and how to wash our hands. We washed our hands before snack.
Bathroom stools and fun, easy to use soaps help young preschooler independently wash their hands. I just use store brand pump soaps and put a few stickers on them.
I've taught them to sing the A,B,C song when they wash. This will ensure they wash long enough to be effective, but don't stay and wash for the next 10 minutes. Really, any song your preschooler likes and knows that is about 2o seconds long should be fine. There are even cute hand washing songs you can learn.
While warm water may be ideal for hand washing, I've just taught them to turn on the cold. I put a small sticker on the cold faucet to help them remember. I have to replace it from time to time, but I think they pretty well know which one to use now.
I picked out two books to read while they had snack. The first is Germs Are Not for Sharing by Elizabeth Verdick. This book is a very simple book about hand washing, proper blowing your nose, and sneezing and coughing etiquette. As I read it, I used their stuffed animals to demonstrate and then they practiced.
The other book was Don't you Feel Well, Sam? by Amy Hest

(I realized after sitting down that I had put out a different Sam book and had to go get the correct one)

. This is a book about a young bear named Sam. Sam has a cough and doesn't feel well. His mama bear takes special care of Sam.
For my own self, I went through our medicine cabinet and threw away any expired medicines and made a list of the medicines I like to keep stocked. I also went through the pantry and made sure I had cold comfort foods and drinks and the makings for chicken noodle soup on hand. I may make a batch and keep in the freezer.
Linking to:
Show and Tell at ABC and 123!