It's our turn to bring the play dough to preschool. I pulled this post out of my archives and we made another batch to share! It's a beautiful shade of cranberry pink, Sassyfras is very pleased. You can see the original post here. Hope you enjoy the flashback!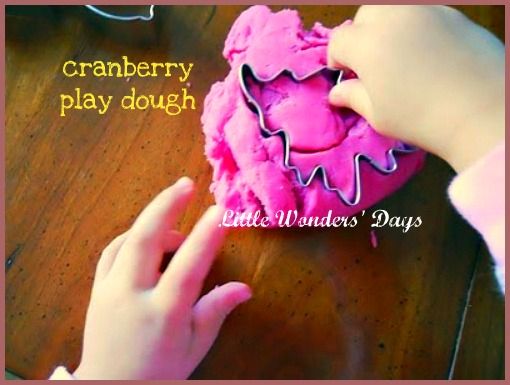 This started out as a complete experiment. I had bought cranberries to make whole cranberry sauce. I added about 4 cups of water (no sugar) to one bag of cranberries and brought it to a boil, then reduced it to low for about 20 minutes. I drained the berries and the water left from this recipe was a pretty, well, cranberry color.
I decided to make some play dough using the water. It turned out a very pretty shade of pink.
It's your basic play dough recipe, just change the water for cranberry water...
Cranberry Play Dough Recipe
1 tablespoon vegetable oil
1 tablespoon cream of tarter
2 cups of cranberry water
Place ingredients in a sauce pan and heat over low heat, stirring until it starts to pull away from the sides. Once a good ball forms, remove from heat and turn out onto a heat safe surface to cool slightly. Knead until smooth.