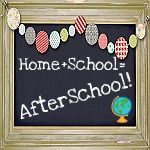 Natalie at Mouse Grows Mouse Learns created this blog hop. It's aimed at families with kids in school that also do fun and educational activities at home. I'm joined by these wonderful bloggers below to help host this party. I encourage you to visit their blogs, I'm sure you'll find them inspiring.
I thought I would share how I plan our family's after school activities. Little J is in 2nd grade and Juiciness and Sassyfras attend preschool.
First I want to make sure that whatever we do is fun and family nurturing. The kids spend plenty of time in school, so I don't want this time to feel like work or take away from family time.

Second, I look to see what the kids are studying in school to see how I can support that learning and extend it for them. I think this helps to reinforce their school work and makes them feel confident in class.

Third, I look to see if there are any needs a particular child might have. For instance, Little J needs support for fine motor and writing, so we spend time with fun activities that nurture these needs.

Finally, I follow their interests, which are plentiful. I could almost drown in the number of "how" and "why" questions I get asked daily.
I tend to do more with Juiciness and Sassyfras since they are home more.
This link will take you to a grid that I use for planning. Just so you know, I don't fill in every box for everyday and I also don't always get to everything planned in the week. It's really just for me to make sure I have covered important learning areas. I have changed it over the years as the kids have grown and needs have changed.
This past week our learning theme centered around "Corn". You can find highlights from our week by searching the label "Corn Theme" on the sidebar.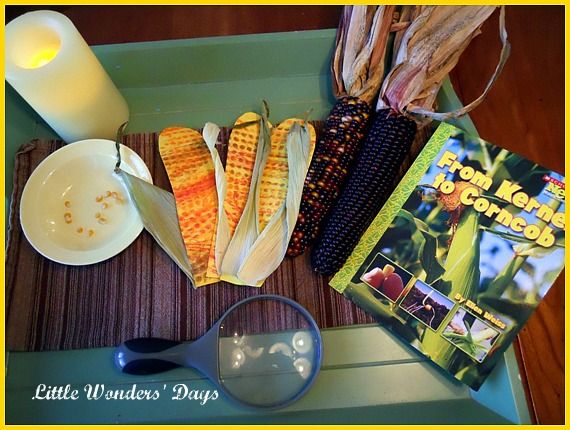 We've had Indian corn on a tray to study, complete with a magnifying glass and the book From Kernel To Corncob. We also placed an ear of Indian corn in a shallow tray of water to see what would happen. It sprouted within the week.
Our favorite experiment though, was answering the question, "Why does popcorn pop". So, of course we made stove top popcorn. I asked Little J if the popcorn was dry or wet, did he think there was any water in it. When we finished popping it, we looked at the lid. There was a lot of water. Where did it come from? We used this You Tube video to understand that as water inside the kernel heats, it turns to steam. Eventually the pressure inside the kernel builds causing it to explode. It was almost as fun as ice cream science.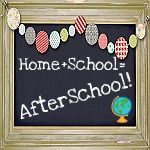 Now it's your turn! We'd love to see your after school activities, both fun and educational. Feel free to link as many as you wish. Please grab a button from the side bar or add a text link to your post. In my next Afterschool post, I'll highlight some of my favorite posts from the party.
Linking to:
Science Sunday
,
Link and Learn
,