Little J's class has just started a science unit on sound. I thought it would be fun to visit our local science museum that has a fantastic sound exhibit as our Friday Fun. My aunt sends the kids a generous check for Christmas each year and I purchase a membership to a museum with it. She was a first grade teacher and I know this use makes her super happy.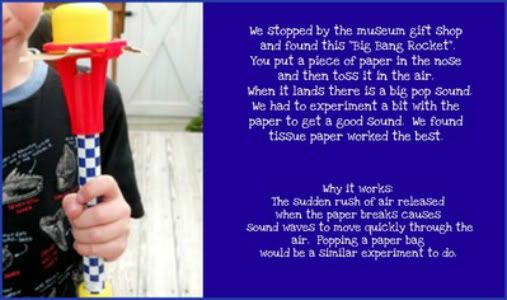 While we were there we stopped by the museum gift shop. I was specifically looking for a book or simple project related to sound. We found this fun rocket.
We also checked out several books from our library this weekend.
The Science Book of Sound by Neil Ardley
The Science of Sound and Music by Shar Levine and Leslie Johnstone

The Science of Sound Projects with Experiments in music and Sound Waves by Steve Parker