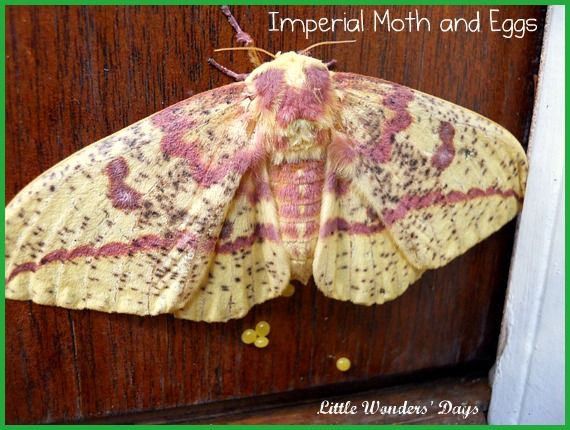 A couple of weeks ago my mother in law called to tell me that there was a large moth on her front door and did the kids want to come see it. Of course! It had started to lay eggs by the time we arrived. Unfortunately, she was placing them right on the front door kick plate on the side the door opened. We were pretty sure they would not be able to stay there and survive. In general, I'd rather leave nature alone, but in this case I decided a little science observation would be a good thing.
We left her alone until she finished laying the eggs and flew away. In the meantime a quick internet search told us that it was an imperial moth and that we were in for a pretty neat observation of a life cycle. We cut a cup down so it was shallow and placed the eggs in it and then placed it inside our butterfly house.
We have been observing the eggs each day and noticed that one egg had become dark brown yesterday. We were greeted by a cute little caterpillar this morning. We've placed a few oak and maple leaves in with it and it seems to prefer oak leaves.
We will probably find a safe place to let this little guy go after he gets a bit bigger. The next step in this larva's life cyle will take him underground to become a pupa. He won't emerge as a beautiful imperial moth until next spring!
Click here to go to the butterfly website and here to see the article we read to prepare for our special guest.