School starts in a couple of weeks for us. Fortunately, all of the schools for the kids are in walking distance from our house. Today, we gathered up some books and took a practice walk to the schools.
Our Book List
Biscuit Goes to School by Alyssa Satin Capucilli
Arthur and the School Pet by Marc Brown
(more a Christmas story, but talks about the class pet)
Froggy Goes to School by Jonathan London
Who Will Go To Kindergarten Today? by Karl Ruhmann
Welcome to Kindergarten by Ann Rockwell
Little J was excited to see his playground again and to show Juiciness and Sassyfras how to swing.
We played at each playground a bit and then read some of our stories. We finished by walking to the little grocery store and having popsicles for snack before heading home. The kids started talking about school and asking questions during snack time. We had a nice chat about school and I think everyone is pretty excited.
Last week my fabulous in-laws kept a couple of kids on various days to let me take each one of them out individually for a bit. I took each of them for back to school clothes, shoes, and haircuts. Then we went to their favorite spot for lunch (you can probably guess how many times I ate at McDonald's) and frozen yogurt.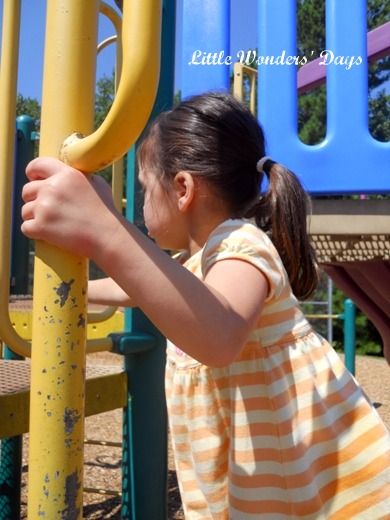 Each one also picked some special play time with me. Sassyfras wanted to play in the playroom at the hair dressers, Juiciness wanted to play at the train table at B&N (I have no idea what the appeal is since we have a nice train table), and Little J wanted to go to the pool. It was a very enjoyable week.