Sassyfras, Juiciness, and I made this giant apple shaped chocolate chip cookie for Little J's first after school snack. To make it, just use your favorite cookie recipe (we use Toll House) and put it in a greased cake pan. I lowered the cooking temp from 350 degrees (regular recipe temp) to 325 degrees and let it cook a bit longer.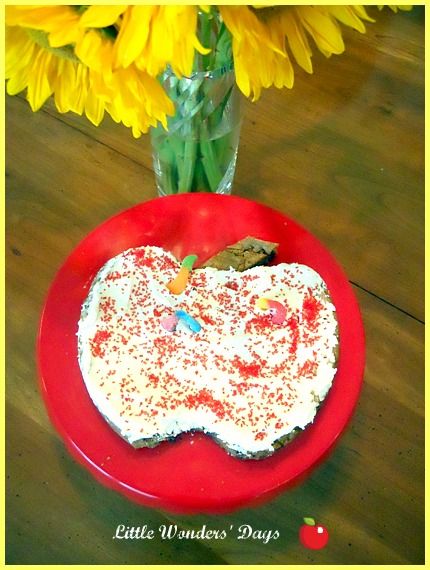 Once it cooled, I cut it into the shape of an apple, then frosted it with homemade butter cream frosting and red sprinkles. This is a wormy apple, so there are three gummy worms crawling about!
I'll leave you with a funny story. I was upstairs and could hear Little J saying something over and over to Juiciness. I called down and asked what he was saying.
He replied: "I'm practicing."
Me: "practicing?"
Him: "Yes. Hello, my name is Little J. X., nice to meet you." Then he would shake Juiciness' hand (who had no idea what was going on, but played along!)
I had told him to be on his best behaviour and mind his manners when he met his teacher!